Back to News and Stories
A fantastic musical conversation: King's music students and faculty are ready to perform live again
On a Friday morning in March 2020, King's music instructors Dr. Joachim Segger and Frank Ho heard the news that Noon Tunes would be cancelled that day because of concerns about COVID-19. But this also meant that the Beethoven Violin Sonatas concert series they had been preparing months for, and would be beginning that night, was also cancelled.
"We'd performed together intermittently over the years, but never collaborated on something as substantial as this," Ho says. "It was quite a few hours of practice time. We take note of each other. He makes a point and I take note and vice versa. We bounce off each other."
"Absolutely. And that's what chamber music is. It's a conversation that happens between two people," Segger adds "So we listen to each other and we respond and it's like this fantastic musical conversation that can happen. Both Frank and I are seasoned performers, so we've spent our lifetimes preparing for something like this."
Livestream capabilities were not ready at that point in March 2020, so the duo waited to play the first and second of their three-part Beethoven series until October of 2020 and April 2021, both online.
The third part happens this week on March 4 before a live audience in Knoppers Hall. The three sonatas to be played at the concert are a way to experience three periods of Beethoven's life: as a young composer in his 20s; a frustrated man losing his hearing in his 30s; and a calmer man in his 40s who has accepted his deafness.
"You have a Beethoven who's surprisingly more serene, more at peace and he's on the verge of writing some incredibly sublime and forward-looking music at this point," Ho explains of Beethoven's later work which will be the third sonata played after the intermission.
"Beethoven was able to express all human emotion in every way. Anger, despair, hope, joy, comic—he was funny as anything—and towards the end of his life when he was struggling with the deafness, yes, he was angry at times, but there were also times when you really feel gratefulness in his music, thanksgiving, and the fact that he's not going to give up," Segger says.

Beethoven Violin Sonatas

Frank Ho with Joachim Segger
Friday, March 4, 2022 | 7:30 p.m.
Knoppers Hall, The King's University
$20 General/$15 Seniors, Alumni, non-King's Students/$5 Children under 12
Free for King's Students with valid I.D.
Purchase your tickets at the door or on eventbrite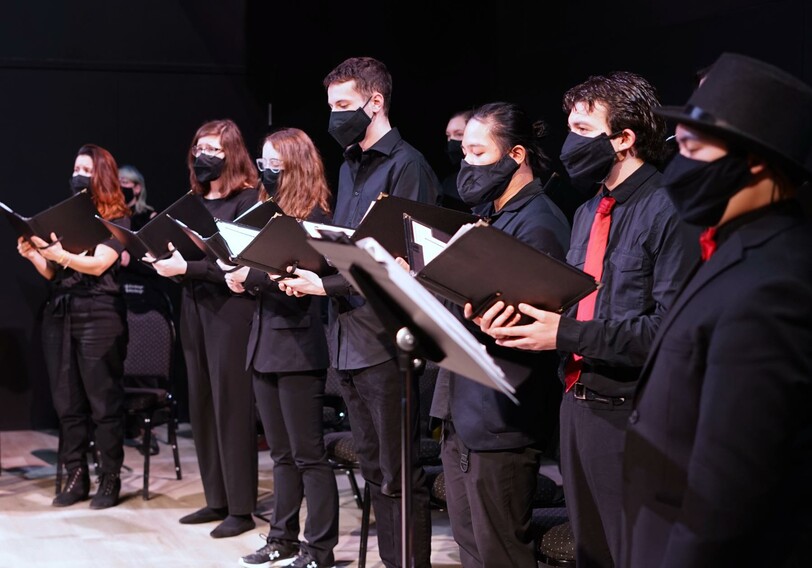 The King's University Chamber Singers also have their first in-person concert happening a week later on March 11 at First Presbyterian Church. The title is Earth Song and conductor Dr. Melanie Turgeon says the concert will feature contemporary and older repertoire from around the world with animal influences and different nature sounds.
"Our entire theme for the year has been creation, so songs that deal with aspects of creation and different parts of nature. There's a lot of latitude in that from a musical perspective," Turgeon says. "Customarily we have a guest within these concerts, but because our Cantorum hasn't performed much this year, I decided for them to be that guest. So it's a completely King's student choir concert." 
The concert will also feature King's student Allan Nelson playing violin on two pieces. This is the first choir concert with a live audience in two years as they have been performing solely online since 2020. This one will also have a livestream option. 
Turgeon feels very blessed with how King's performers have been able to progress in their musical studies during the pandemic since many institutions chose not to allow their students to continue practising in any capacity.
"All community choruses were shut down but because ours fell into more of a curricular concept, we were allowed to still function in university settings. A lot of other universities didn't feel comfortable going there, but I thought with the size of our institution we could negotiate and with a lot of good planning it would be possible instead of being online all year," Turgeon says. 
Waiting to perform before live audiences again has been a lesson in patience for King's students and faculty, and they are excited that the hours of practice will finally see a payoff.

Earth Song
The King's University Chamber Singers and Cantorum
Friday, March 11, 2022 | 7:30 p.m.
First Presbyterian Church, 10025 - 105 Street, Edmonton
$20 General/$15 Seniors, Alumni, non-King's Students/$5 Children under 12
Free for King's Students with valid I.D.
Purchase your tickets on eventbrite