After an intense match that lasted more than an hour—with one 53 shot rally!—King's students Abby Ledda and Cecilia Wolski won silver at the CCAA National Badminton Championships on March 19 at NAIT.
The Women's Doubles pair played three close games against Humber College for the final, ultimately losing by two points (18-21, 21-19, 28-26).
"We fought for every single one of those points and it was literally anybody's game," Wolski says. "I watched that game over and over again afterwards and I can say that we couldn't have done anything differently. I thought we played amazing."
Having played Humber twice previously in Round 5 and losing in closely matched games, Ledda and Wolski were very focused going into the gold-medal game. Aware they were representing both King's and the ACAC.
"Despite the outcome, I couldn't have been prouder of us," Ledda says. "It was a game where every single person was fighting and everyone knew it. It was disappointing to not get gold, but I came off the court and said I could not be more content with our performance because we exemplified how not just female players, but King's players are always fighters."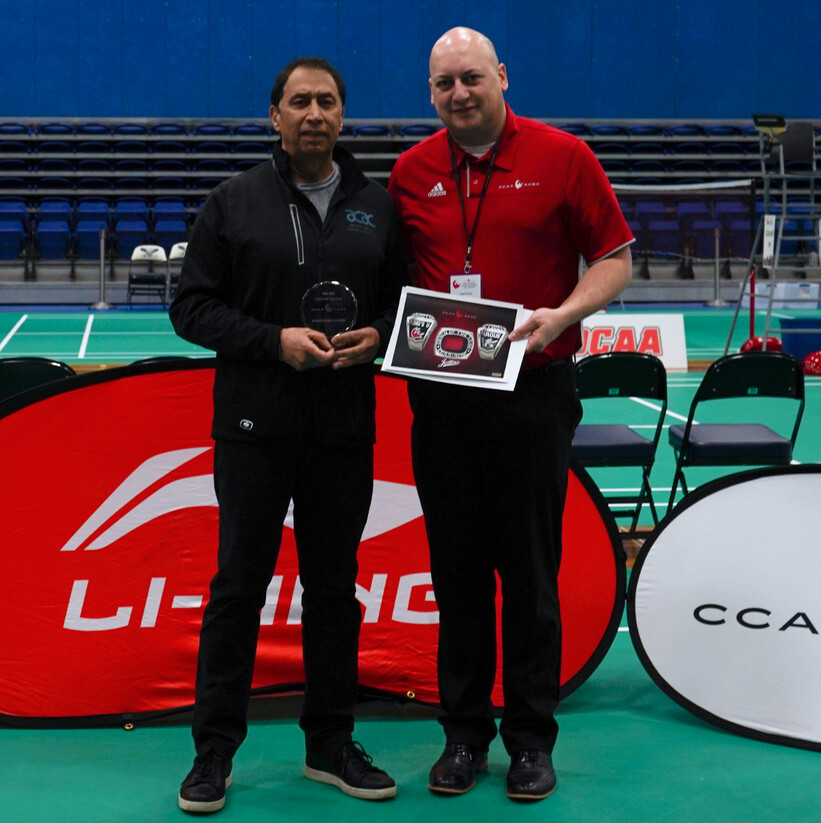 King's badminton head coach Naeem Haque was named CCAA Badminton Coach of the Year on March 17 during the opening ceremony where he was applauded as "one of the most recognized and decorated coaches within the CCAA," by CCAA Badminton Convenor Michael Kopinak.
Haque has been coaching for more than 30 years and has been leading the Eagles since 2014, which was an exhibition year for the newly formed team, before they joined the ACAC in the 2015 season. He had previously coached Concordia for 12 years before stepping down.
"I was a mentor coach for two years after retiring from Concordia and then King's wanted to start a badminton program, but the only reason they'd start it is if they had somebody to come and take over and run it. So I was pulled out of retirement," Haque laughs.
Under Haque's leadership, the Eagles won gold this year at the ACAC provincial championships, where five of his players qualified for CCAA nationals. He previously won the CCAA Coach of the Year award in 2004.