The dozen in-progress research studies listed on Dr. Darcy Visscher's office whiteboard reflect an ecologist's delight in uncovering how we as humans shape the behaviour of the wolves, elk, coyotes, porcupines, ducks, and other species around us—and what we might do to mitigate any harm. Given that bent, perhaps it's no surprise that he is equally pleased when students help shape his research as assistant professor of biology at King's, teasing out unexpected findings while broadening their understanding of what a career in science might entail.
BE THERE WOLVES?
A conversation in 2014 with Phil Walker, then a senior research student concerned about the management of naturally recolonizing wolves in the Cooking Lake-Blackfoot Grazing, Wildlife, and Provincial Recreation Area, led to research with Alberta Environment and Parks that has since expanded beyond wolves to involve multiple species in the Beaver Hills.

Less than an hour's drive east of King's, the Beaver Hills is an intriguing ecosystem rooted in rubble left behind by retreating glaciers. Recently named a UNESCO Biosphere Reserve, it encompasses both the urban centre of Sherwood Park and protected areas such as Elk Island National Park and Cooking Lake-Blackfoot, plus numerous industries, acreages, and farms. In 2014, farmers using the Cooking Lake-Blackfoot grazing reserve sounded an alarm that wolves were killing their cattle. The province agreed to reduce the pack, a controversial move. Still, the exact number of wolves in the region remained unclear.

Walker dedicated two summers plus his senior research project to the search for wolves in and around Cooking Lake-Blackfoot. Besides gathering samples of hair and scat (feces), he spent significant time positioning and repositioning 18 motion-activated cameras and later analyzing the resulting images. The data gave evidence of far fewer wolves than farmers feared, helping to forestall future culls. "There are so few wolves now that they don't need managing," Dr. Visscher says.

But for an ecologist driven to investigate how animals and humans engage in the dance of life on a mutual landscape, many questions remain in the Beaver Hills, an island of Boreal Forest habitat surrounded by Aspen Parkland. And so the research has broadened to a "whole ecosystem approach," with an evolving group of students helping to build a storehouse of non-invasive samples—mostly photos, hair, and scat.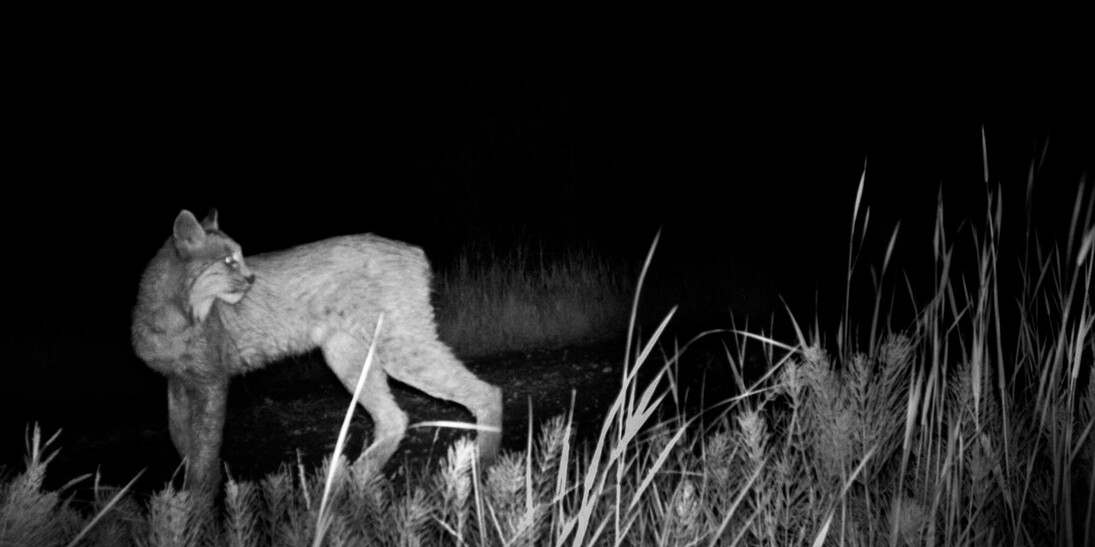 FECAL MATTERS
Dr. Visscher was pondering what questions the fecal samples might answer when biology student Emilie Toews expressed interest in research related to her dream of becoming a veterinarian. Together, they chose to focus on Echinococcus. Ranked among the world's most dangerous food-borne parasites by the World Health Organization (WHO), Echinococcus are zoonotic, meaning they can (and do) transmit from animals to humans. During her final year at King's, Emilie analyzed 27 samples of wolf and coyote scat using fecal flotation—creating solutions that allowed Echinococcus eggs to float to the top and then identifying the eggs under a microscope. She found signs of the parasite in 18% of the samples.

Upon graduation this spring, Emilie prepared another 150 samples to carry to the University of Calgary, where she is beginning a Master's program funded in part by the Alberta Conservation Association, which also supported her research at King's. Using a molecular technique called Polymerase Chain Reaction (PCR), she will more definitively quantify the prevalence of the parasite in the samples. As a next step, she plans to collect and analyze fecal and blood samples from dogs walked in the Beaver Hills, as dogs can pick up the parasite through contact with infected feces and pass it to humans. (Message to dog owners: deworm them quite frequently, especially if they spend time where wildlife roam or have a habit of chasing rodents.)

After working for a time in a veterinary clinic, Emilie no longer dreams of being a vet. Instead, she is combining two favourite yet disparate topics, the tiny world of microbiology and the expansive array of wild animals, into a career she didn't even know about before attending King's.
OPENING DOORS
Similarly, Dr. Visscher's research in the Beaver Hills is opening unexpected doors in a unique corner of creation. "This little project has gotten legs," he says. "It has given me a real sense of place—a context in which to work. We're starting to understand the system a little bit, and yet we're just scratching the surface." A contract with Ducks Unlimited, for example, enabled the team to analyze wet spots reintroduced in areas previously drained for farming. While in the field, they also gathered grass samples to study whether wet spots benefit grazing animals by encouraging moisture to permeate up nearby slopes, adding to the storehouse for future analysis.

Meanwhile, the number of motion-activated cameras in the Beaver Hills more than doubled to 37 this past summer (20 owned by King's and 17 contributed by Alberta Environment and Parks). Placed in a regular grid within Cooking Lake-Blackfoot, the cameras caught 250,000 images since June, fodder for research sure to be shaped by the passions of students to come.

The images provide intriguing glimpses of wildlife in their human-shaped element: two moose fighting through a fence, a coyote trotting along a road with a mouthful of rodent, a regal wolf caught in the camera's flash, an elk giving birth. "It really reminds you that places just a half hour away from here have some wildness still," Dr. Visscher says. "It's refreshing to know that our ability to protect those places in whatever form is working. Now, how can we keep it working? Twenty years from now, will students be able to take pictures of cougars and wolves and lynx?"