Back to News and Stories
Downtown forum explores secrets to business success
The King's University partnered with CBC Edmonton to host Risk-Takers and Money-Makers, a public forum on entrepreneurship held in a downtown restaurant. A trio of Edmonton's savviest entrepreneurs shared their personal journeys to success during a panel
It was one of those evenings when one could happily resort to a business-world cliché: a win-win deal.
There were winning smiles all around January 18 as the Leder School of Business at The King's University partnered with CBC Edmonton to host Risk-Takers and Money-Makers, a public forum on entrepreneurship held in a downtown restaurant. A trio of Edmonton's savviest entrepreneurs shared their personal journeys to success during a panel moderated by CBC's Mark Connolly, host of  Edmonton AM. They shared stories about how they overcame adversity and offered advice for budding entrepreneurs in the audience.

In an informative evening sprinkled with laughter and applause, Connolly's sidekick on the show, Garrett McGowan, quickly exposed the crowd's ignorance about Edmonton AM by asking a few simple questions to find worthy recipients of free T-shirts. Blame the vintage medium of radio or the show's early-morning time slot, but few of the youthful attendees appeared to be avid CBC listeners.

Listen avidly they did, however, to such local business luminaries as Justine Barber, co-founder of Poppy Barley shoes; Jordan Jolicoeur, CEO of Carvel Electric and recipient of the Aboriginal Youth Entrepreneur of the Year Award for 2018; and Nicolette Leonardis, co-founder of Visio Media.

Ryan Young, Dean of the Leder School of Business, talked to the crowd about King's business program at the outset during an interview with Connolly. When asked about how to teach risk-taking, Young said students learn to adopt the attitude: "It's always a good time to start a business."

Fear and insecurity are travelling companions on the journey to success, said Margot Ross-Graham, Edmonton AM's regular workplace columnist. "Seek out the supports you need," she advised the audience.

Ross-Graham outlined what it takes for local businesses to thrive in the city, stressing the biggest challenge is "to look up and look out," to build realistic expectations. Friends and mentor-colleagues
helped her focus.

Barber and her sister launched Poppy Barley in 2012 in their pursuit of a shoe factory that cared about its people just as much as it cares about a quality product. They started out as an e-commerce
business selling custom footwear but now identify as an international fashion company based in Edmonton.

Her advice to start-up entrepreneurs? Listen to your customers, be aware of the big picture, and don't be afraid of failure. "It's important to be young and optimistic," she said. "Even if you fail, it's an amazing experience, and it looks good on your resume."

Jolicoeur said overcoming prejudice about his youth and his Indigenous status was a huge challenge when he took over a small electrical business and turned it into a fast-growing, successful industrial electrical contractor. He credits his practice of setting intentions. He told naysayers: "I will prove to you that I can be a professional contractor and that it grows from there."

Lenoardis' award-winning company specializes in analytics-based advertising and just-in-time metrics focused on elevator advertising. But she graduated as a philosophy major. Her secret? "Knowing when to pivot, trying new strategies quickly." She also applauds the business culture in Edmonton. "People here are willing to support a local success story."

Stephanie Enders, manager of Startup Edmonton, spoke about the support her organization offers young entrepreneurs. Startup Edmonton has a community hub in the Mercer Warehouse on 104 Street, where young people with great ideas can connect with business opportunities.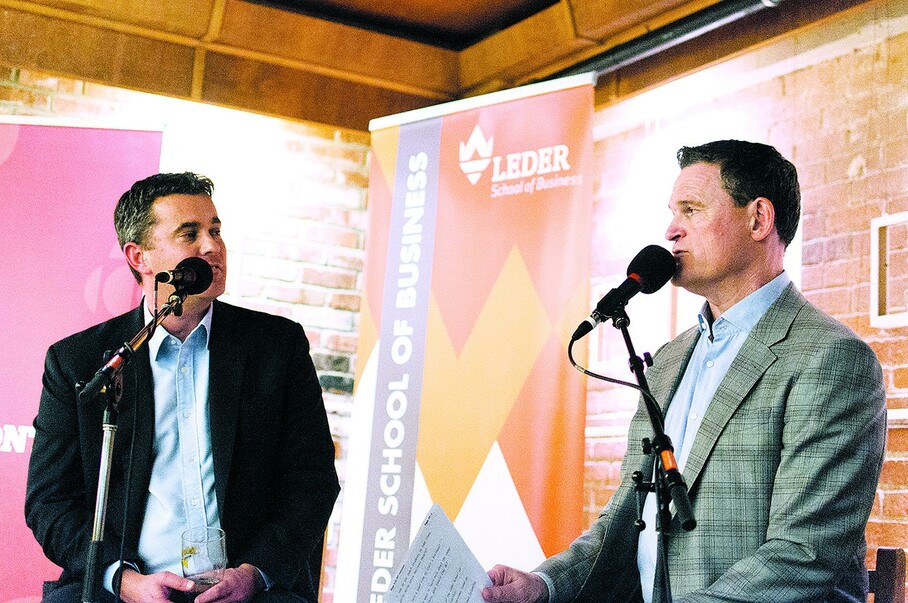 Because the event was taped for Edmonton AM, segments of Connolly's interviews with the participants were replayed for radio listeners in the week following the forum.

"Our partnership with CBC was a huge success, and we are extremely pleased with the outcome," Young commented later, adding that he received many emails from participants that said it was the best entrepreneurship event they had attended.

The success of the event fuelled new business connections for students. "It has also led to new opportunities for the business school," Young said. In March, the school will be offering a training event for students and alumni. Leder School of Business is partnering with several community groups to promote pop-up business as a way to test a new product or service.

Young advises anyone who's interested in participating to watch the Leder School's social media as space will be limited. 

"Through the event, many of our students were able to connect with people in the start-up scene. A number of them are now actively looking at turning their business ideas into actual businesses."