King's recently completed its first year of competition in futsal in the Alberta Colleges Athletic Conference (ACAC), which offered a new opportunity for Eagles student-athletes to compete almost year-round.
"ACAC took the requirements down by half in terms of financial commitment, which made it more feasible for universities to participate," says men's coach Matthew Oosterhuis ('01), who also coaches men's soccer in the fall. "Futsal has been really good for the team, because in addition to each person going their own way to play indoor club soccer in the off-season, they get to keep playing together, and hopefully more chemistry develops for the team long-term."
The Eagles men's futsal team hasn't had an easy time getting exhibition games this year, Oosterhuis says, because it's a fairly new sport in Canada for adult teams. But he says that is likely to change soon, thanks to the fact that the Canadian Soccer Association and the Alberta Soccer Association are "really promoting futsal" as a good way to develop young soccer players.
The women's futsal team at King's is competing in the University of Alberta Pandas futsal league, which plays every Tuesday evening.
Because the opportunity to play futsal came in after last year's budget had been set, Oosterhuis says students on both teams are self-funding and raising money to participate in the new sport at King's U themselves. He believes it is a commitment that will pay off as players continue to develop their skills, even though it is a separate and unique sport, with different skill sets from outdoor soccer.
"Futsal Is played indoors but isn't 'indoor soccer' as most people understand 'indoor soccer' to be in Edmonton. Futsal is better," Oosterhuis says. "There are five players on each side – a keeper and four players, and they switch on the fly. It's without boards; a different ball, different rules." He says the smaller team in futsal makes for a more exciting practice environment, as players compete for fewer spots on the floor.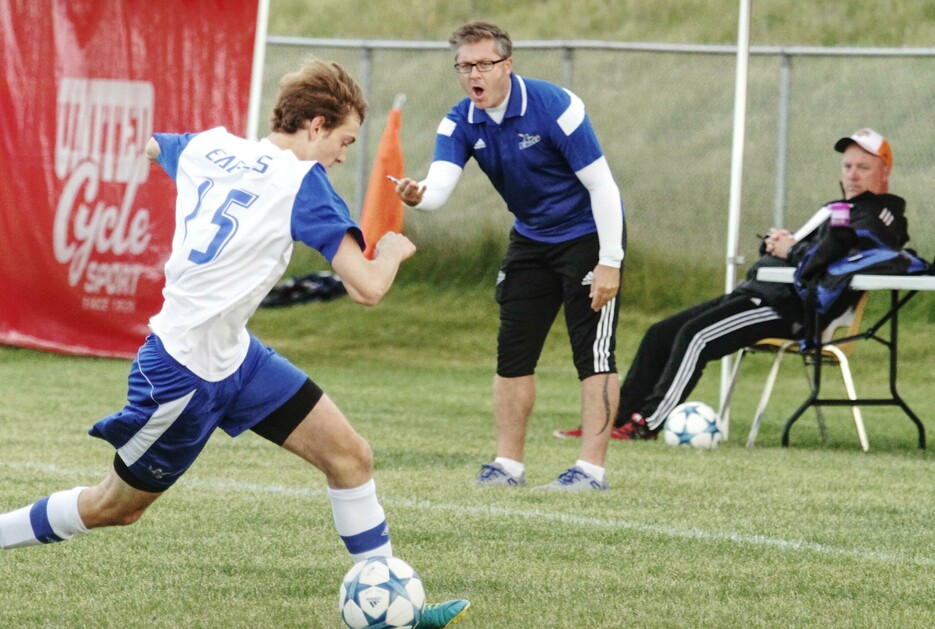 Futsal requires more problem solving than indoor soccer, Oosterhuis says, since you can't bank the ball off the walls. "To get out of tight situations, players need to develop their thinking and technical ability and speed of play. Plus with only four on four, they touch the ball and are involved more often."
The game also requires some different thinking from coaches. To prepare for his new role, Oosterhuis took a 12-hour futsal coaching course from the NCAA in the United States, since the Canadian Soccer Association does not yet offer an official course. "For me, it's a great way to keep players engaged during the winter," Oosterhuis says. He looks forward to seeing how the opportunity to play futsal impacts the soccer teams next fall.
This article first appeared in the Spring 2017 issue of Connection Magazine. Read the entire issue here.