Imagine this. You're driving West, just about as far West as you can travel in Canada by car. It's been a long drive; the single lane highway twists and turns in every possible direction, the corners are sharp and tight. You've driven past moss-covered trees so tall they brush the sky and lakes so still they seem to be made of glass.
The road begins to open up in front of you as you near the coast. The landscape changes from rugged mountains to gleaming ocean waters, long sand beaches, and deep green cedar rain forests. Just past the "Welcome to Tofino" sign sits an old wooden building with a funky bright-coloured sign that reads "Chocolate Tofino."
It didn't look like much but Kimberley (née Tomiyama) and Cameron (Cam) Shaw stopped in for a fateful visit nine years ago that would change the course of their lives.
The Shaws got married a few months after Kim's graduation from King's in 2004 and both found good jobs. Unfortunately, Canada's economic climate became unfriendly and Kim lost her job six years later, causing Cam to question his.
Cam took a leave of absence from his job and the Shaws planned a sabbatical. "It was a time to take ourselves out of the regular grind," recalls Kim. So they bought a Volkswagen van and hit the road to Tofino.
Beyond the basic necessities, Kim and Cam only allowed themselves to bring 10 items each for their five-week excursion. They also made lists of the things they were going to focus on during this time: at the top of Kim's was learning Japanese, for Cam it was surfing.
Cam describes the sabbatical as a rather strict and intentional time. "People didn't understand that it wasn't a vacation. It was a refreshing but focused time that took us out of the ordinary."
During their time in Tofino, some local friends recommended they try the sweets at Chocolate Tofino, and Kim and Cam ended up there often. As they were packing up to leave, some new-found Tofino friends suggested, out of the blue, that they should move to Tofino and buy that chocolate shop.
Kim and Cam laughed off the idea. After all, they didn't even know if it was for sale.
Their sabbatical came to an end and the Shaws packed up and took the winding road back out of town, driving past the chocolate shop once more—but it wouldn't be the last time.
For each of the 1,700 kilometers back to Lloydminster, Kim and Cam took turns asking if the other was still thinking about purchasing the chocolate shop. The answer was always "yes."
Upon their return, they talked through the idea with mentors, friends, and family.
"We didn't fit the ordinary when we came home. Going back to work was not only a shock but also disappointing. That's what triggered the change," Cam explains.
They soon took a leap of faith and emailed the owners and asked if they were interested in selling the business. They waited for a response. Finally a notification popped up on Kim's laptop. The Shaws were invited to come meet the owners and start learning the ropes.
Kim and Cam had only two weeks to tackle the task at hand. "There was a lot of learning in a very short amount of time," says Kim. "When you spend eight hours a day learning to make caramels, ganache, chocolate, and ice cream you pick up a lot, but it was a steep learning curve for two people who had never run a business."
Nevertheless, the Shaws dug in and pursued their professional chocolatier certificates at École Chocolat in Vancouver, BC.
The Shaws have now called Tofino home for nine years. So what does a day for a resident chocolatier in Tofino look like? "I spend a lot of my mornings surfing and then go to work and get everything done as fast as I can," starts Cam. "We come in the morning and start up our big chocolate wheel." It takes about an hour to an hour-and-a-half to temper the chocolate every day. "From there it's moulding chocolates, dipping truffles, making ice cream, fashioning caramels and ganaches, decorating, filling, and piping," adds Kim.
The Shaws work really hard to make high quality chocolate and ice cream but their main mission is the people of Tofino. "We strive to invest in the kids that grow up in town and go on to work in our shop and in the local residents that come in. They might not know us or know that we're Christians but they often pop in and talk with us. It's a huge compliment," explains Kim. "It has been a unique and fun ministry. We're really doing a whole lot more than making chocolate and ice cream."
"We've always had callings on our hearts," says Kim. "When I was called to King's I just knew that it was what I was supposed to do." Cam adds, "We've tended to lean toward choosing the more adventurous option, not always the easiest but something we won't have regrets about. We choose the trail requiring some growth."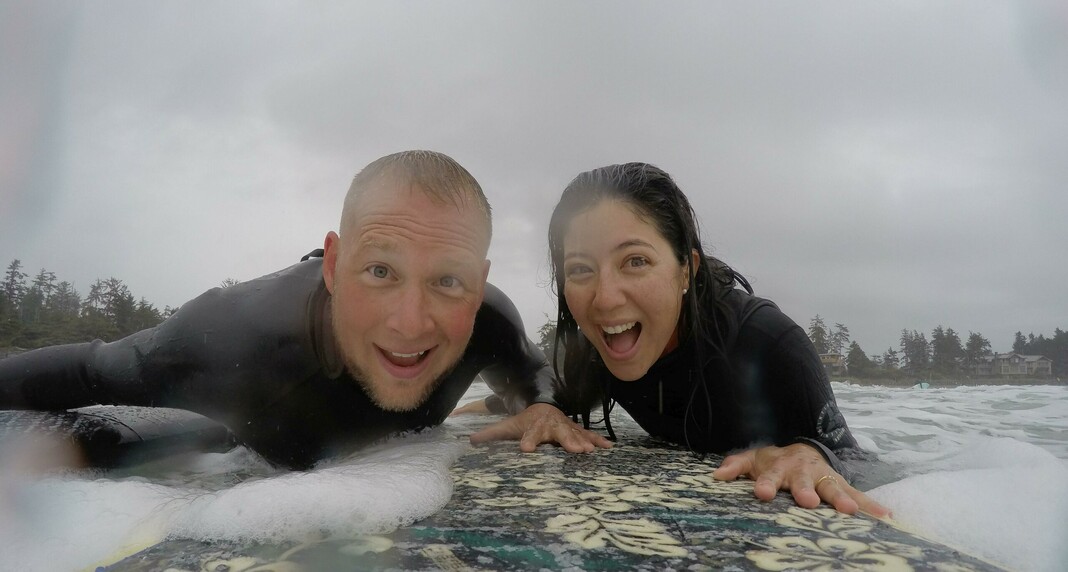 From Edmonton, to Lloydminster, to Tofino, and back, the Shaws summarize their journey saying, "You don't really know how your life is going to turn out. This wasn't what either of us planned when I was at King's," says Kim, "but the beauty of life is that as much as we plan or hope for things, it doesn't always go that way."
The Shaws are proof that the road that twists and turns is worth travelling. Eventually these roads may open up to life-changing Tofino sunsets.