Harry Cook, with a twinkle in his eye, recalls his appointment to The King's University as the first biology professor in 1979. As he does, the stories begin to flow. Dr. Cook arrived at the Wawanesa Insurance building with no space for laboratories or equipment yet he was prepared to put in
the necessary work to make King's an institution known for, and founded on, scholarly excellence in the natural sciences.
"I still remember in my interview, one of King's board members asked me — 'can you guarantee that you can do university level thinking and do it here at King's?' I still regret not asking the obvious question in response which was, 'can you guarantee that King's can make that kind of work possible?'" laughs Cook. "Well, we did and we still do."
Despite an intense lack of resources, Cook did his best to ensure that King's first science classes were delivered as well as could be expected given the circumstances. In his second year, he interviewed
an aspiring academic who would become King's first chemistry professor, Dr. Peter Mahaffy. At the same time, the university began important discussions about moving into a new rented campus on 97 street which would provide better facilities for the sciences - including much needed lab
space.
"Peter said to me, 'I'm not moving from Carleton College to King's if we don't move buildings.' It was a little push to get us moving. Peter was ready to put sciences on the map," explains Cook.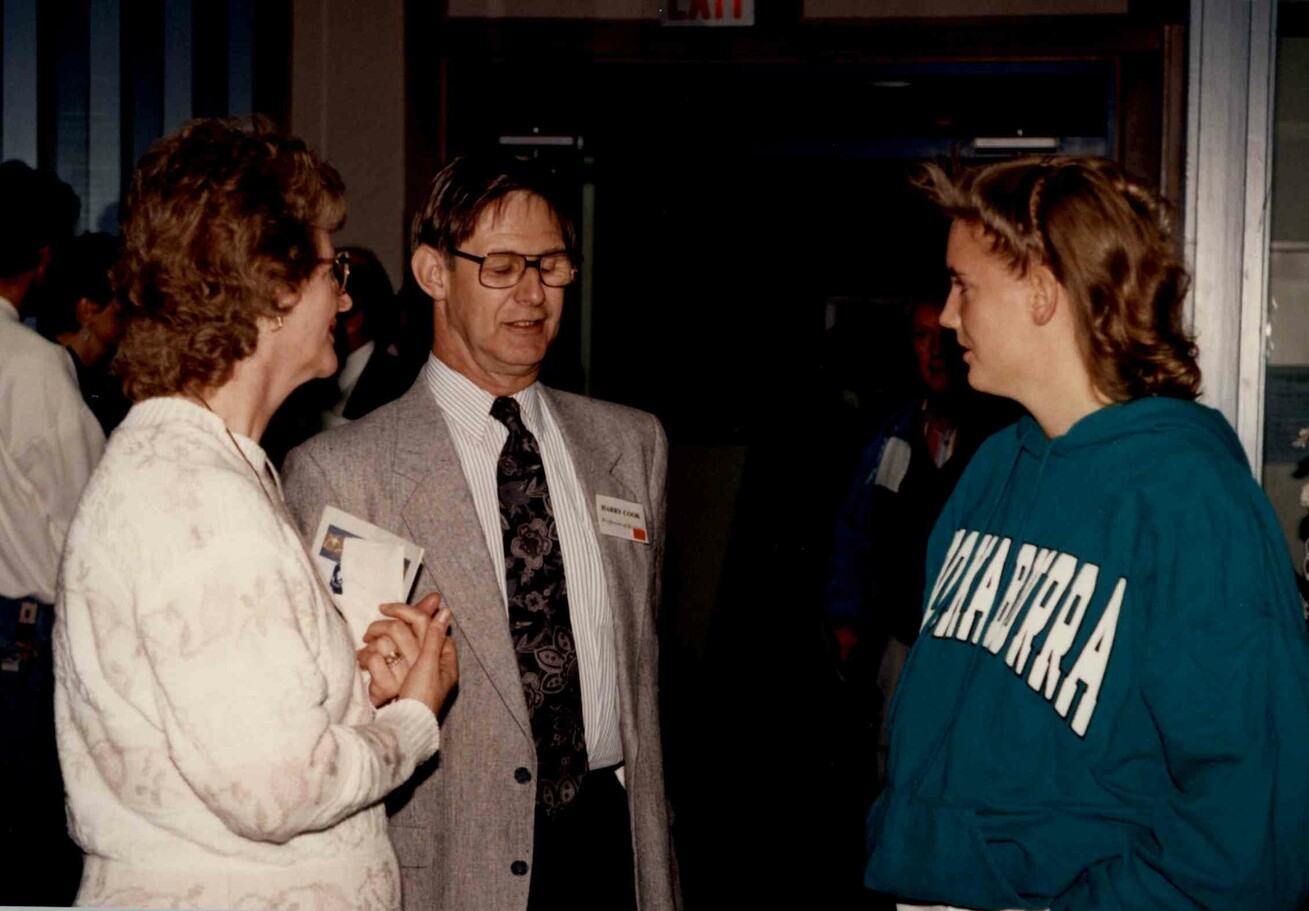 The move to 97 street did happen and Dr. Mahaffy arrived in Edmonton from Minnesota in August 1981 with mere weeks to set up a chemistry lab and prepare for the arrival of students that September. Given a very nominal budget, Peter set off to a Saturday morning auction to purchase
benches and anything else he could find.
"I arrived at the auction ready to purchase some benches that the University of Alberta's School of Dentistry were putting up. I went to bid on the ones I needed, there were several people bidding against me. These folks were looking for benches for their garages or tool sheds. Eventually two guys came up to me and asked why I was bidding on them? I explained who I was, what I needed them for, and that I needed 16 benches. After a moment, the men said to me, we want you to get your benches so we'll stop bidding until you get your 16," shares Mahaffy.
The early investment that King's made in science was unusual for a Christian college and it characterized King's as an institution with a strong emphasis on scholarship and research from the start.
Not long after, Peter recalls Dr. Cook bringing in a sessional instructor whose booming voice and pronounced Dutch accent could be heard down the hall.
Eager to establish biochemistry at King's, Dr. Hank Bestman withdrew $400 of his own money – after receiving a pay cut right before he had even started — and purchased the necessary equipment from the University of Alberta. With a shrug and a laugh he explains, "we needed to start biochemistry labs, so I just went out and got what we needed."
"Money is the means," explains Dr. John Wood. "It's the capacity to go and do what you want to do. The first natural science faculty were a group of people who came together and didn't let money, or lack of it, stand in their way. They chased excellence in spite of significant challenges."
Under the guidance of Dr. Wood, King's expanded the biology program and established environmental studies as King's first 4-year degree. With many field trips to Cypress Hills, Dr. Wood came ready to help students succeed.
"Sometimes we would rent a van and take students that wanted to explore a bit on a Saturday. Those early days were all about making things work," explains Dr. Wood.
Following the move to the Capilano Motor Inn, the building fondly known as The King's University's campus today, sciences really began to take off. A new dedicated science wing was constructed prior to students arriving at King's first permanent campus. Dr. Brian Martin, who had been an associate professor for many years prior, opened up opportunities in astronomy, while growing course offerings
in mathematics and physics. Imaging and the rise of computerization led to the start of the King's Centre for Visualization in the Sciences in 2005 and soon after, the computing science program at King's.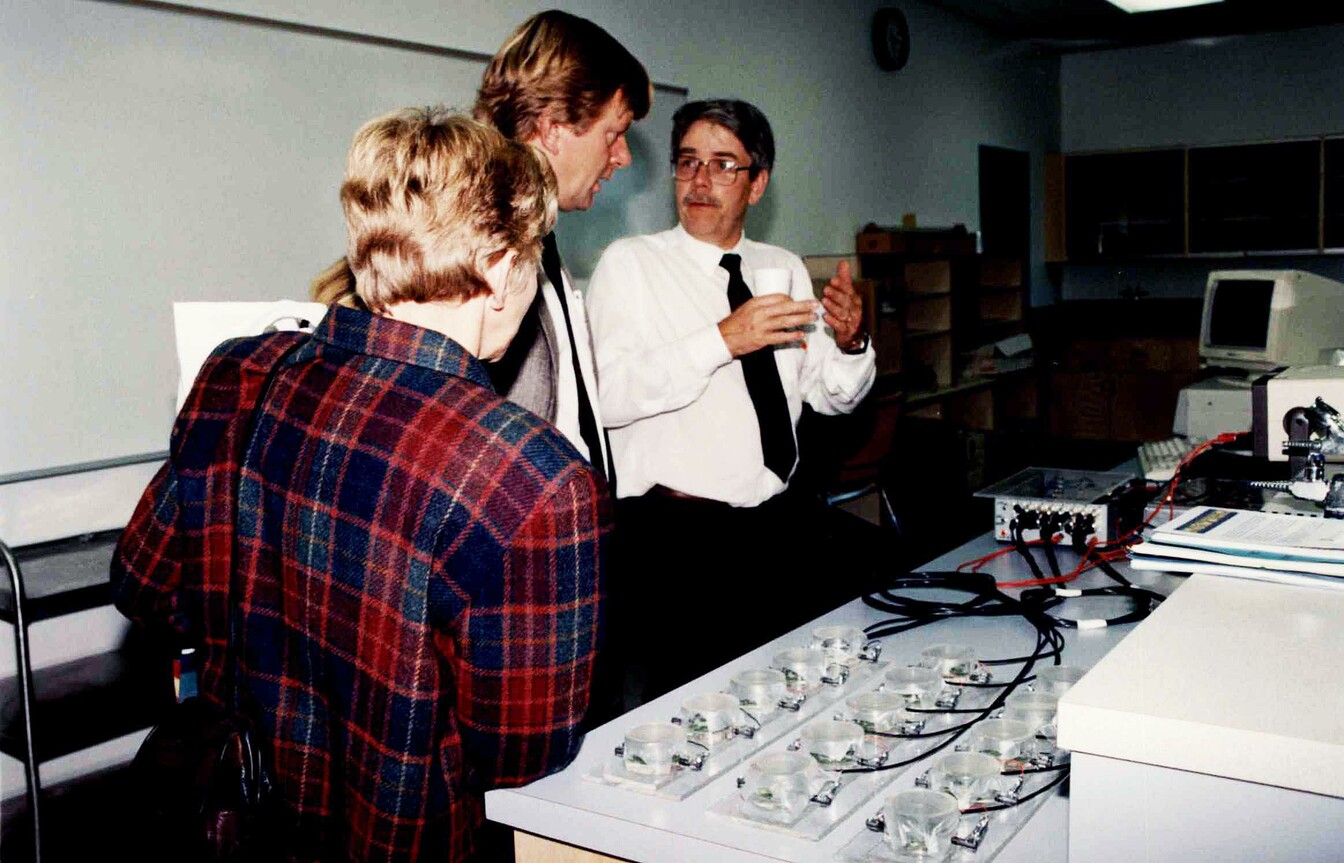 "I think the story of the sciences at King's is that most faculty members have been offered positions elsewhere, at extremely prestigious universities and organizations, but chose to stay at King's because of the 'special things' that happen here," explains Mahaffy.
In December 1999, the Natural Sciences faculty wrote an overarching strategic document which laid out characteristics for the department such as creating a community of active learners, committing to teaching scholarship, and mentoring, and prioritizing teaching from nature, not simply about it.
"Myself, and other science faculty members recently went through this document," explains Mahaffy. "I'm proud to say that not much needed to be changed, we still hold true to the original values of the
department."
"Everyone was here to do what was good for the development of this institution and to help our students grow. That remains true to this day," states Bestman. Today King's retains the personal commitment and intense dedication to excellence in scholarship that was present at the founding
of the university.