In the heart of the Alberta Badlands, amidst sweeping dunes and famous dinosaur digs, Canada's largest outdoor stage hosts a production of the greatest story in history: the life, death, and resurrection of Jesus Christ. The Canadian Badlands Passion Play, performed every summer in Drumheller, Alberta, is brought to life in an outdoor amphitheater by a cast and crew of over 100 actors, directors, and volunteers – of which two are counted among The King's University faculty. King's has a quiet but long history with the Passion Play. Daniel vanHeyst, Professor of Art and Drama, has contributed 14 years of careful curation of set and costume design to this project.
Another familiar face has portrayed the lead role – that of Jesus Christ. Aaron Krogman, Sessional Lecturer in Drama, has played Jesus for several seasons of the play. VanHeyst and Krogman first met on set when vanHeyst was tasked with designing Krogman's costumes; now they're collaborating on a film about Krogman's experience with the play. The question most asked of Krogman is "what is it like to play Jesus?" It is interesting to think about how a Christian performing artist might represent Jesus truthfully to thousands of audience members each year.
Aaron Krogman Q&A
What is most challenging about playing the character Jesus?
I think some of the challenge of playing Jesus is similar to the challenge of imagining Jesus as a human being in the gospel stories. It's easier to imagine the divinity of Jesus than to imagine him moving from moment to moment in real time. He has become so iconic that it can do a disservice
to his humanity. 
What is your favourite scene to perform?
The characters who ask Jesus for healing with a crippled back, a lame hand, a dead son – they all move me. We live in a time when the medical world meets many of those needs, so it's refreshing to see a tangible ache for God to come near in the faces of the crowd.
What is a unique experience you've had in your role?
Overall, the opportunity to think about what it might be like to be Jesus, to look at people through his eyes. I tend to notice the people around me and see their circumstances much more graciously when I'm on set as compared to the rest of my life. There have been comedic moments, too. Once, while being lowered off the cross, I felt something crawling on my stomach. Still trying to appear lifeless, I
peeked and saw a huge spider crawl into my costume! For the whole 10 minutes before I got stretchered off the set, unable to move, I could feel the spider going about its business. The second I was offstage I unabashedly screamed and jumped around until it was gone.
How has the Passion Play enriched your work at King's?
It has caused me to reflect on the overlap between faith and art. Most significantly, it's given me a tangible metaphor for the idea of "the word made flesh." When we read the text we take it into ourselves, into the imagination and memory, and we then act it out, embodying it with and for
other people. This process is the staging of a play, but it can inform how we treat the Bible, too. The text ought to manifest in our bodies, actions, and words. I love the discussion about ways art can inform faith.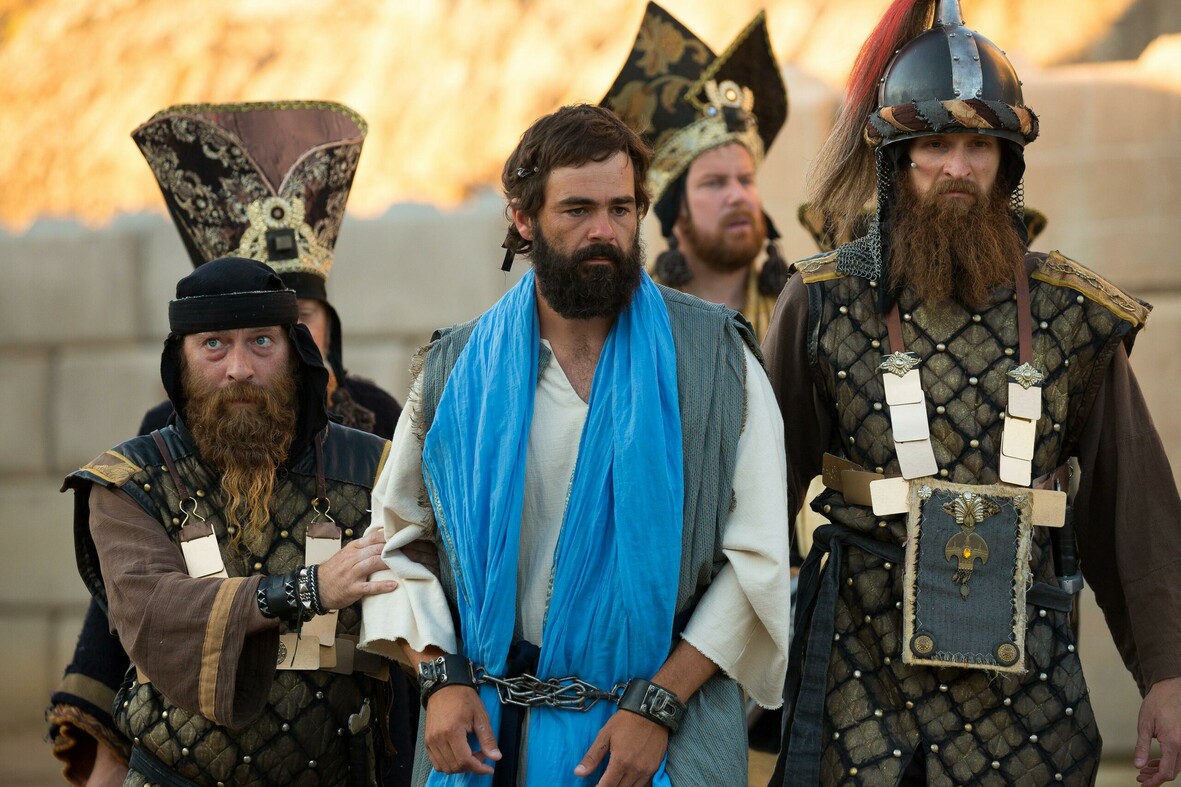 Daniel vanHeyst Q&A
How did you first become involved in the Passion Play?
My participation began in October 1993 when, as a new sessional drama instructor at King's, I received an invitation from the founder of the Rosebud School of the Arts to meet with other Christian drama professors to explore a vision for launching an outdoor presentation of the life of Christ. By the end of that gathering I had made a commitment to design the first production of the Passion Play planned for July 1994. During the subsequent 14 years, the play gradually took over my personal and
family life. It became the main theatre work I did outside of King's. My children, who were six that first year, were soon performers in the show. My wife worked in wardrobe as a seamstress, and during performances, she served as a nurse in the First Aid tent.
What keeps you coming back to the play from year to year?
Probably most important to my continued involvement is the network of close relationships we have developed with other Passion Play people. I found myself among a growing community of Christian
theatre workers and we had fun getting to know local volunteers whose lives were so different from our own in Edmonton. We felt we were part of something valuable, spiritual, and unique – much bigger than our individual contributions.
What is the most challenging part of each new year of the play?
The most challenging aspect has got to be the many decisions that need to be made by the artistic leadership team on which elements of the show's previous seasons should be recreated, which need
adjustments, and what new ideas will be introduced. In the 25 years since the first season, several new scripts have been devised, shifting and selecting different scenes from one gospel writer's point of view to another.
Any fun behind-the-scenes stories?
In the first couple of years, I was making helmets for Roman soldiers by modifying construction hard-hats and adding pieces from dishwasher detergent buckets. Visitors who get a backstage tour can
see the blood lab where wound effects are prepared. These include the marks put on the Jesus actor, such as blood from the thorn crown and the cross (he has the wounds concealed under his robe). Each of these effects has been carefully researched and tested to withstand the outdoor conditions and the viewing distances of the audience. Commercially available prop blood is used, but so are custom mixtures of things like chocolate syrup, dish detergent, glycerin, and food colouring.