My earliest memory of Colin Wiebe dates back to April 1985, when he and two friends from then-fledgling King's College walked into the Royal Alexandra Hospital with a gift for our newborn son.
We still have that multi-coloured plush ball with its hexagonal patches, perhaps a nod to my husband Peter, their soccer-playing chemistry professor. Colin—now Dr. Colin Wiebe, a Fellow of the Royal College of Dentists of Canada—still has the generosity of spirit that brought him to my bedside that day.
Fast forward several decades, and you're likely to find Dr. Wiebe at work at the South Calgary Periodontal clinic which overlooks Calgary's Lake Bonavista, a quick jog or cycle from his home. Thanks to two professional partners and a staff of 17, he also has the flexibility to indulge in a variety of passions which have taken root in his life as surely as an implanted tooth.
High on the list is a desire to use his skills to help others, often in places where the lack of a dental chair results in an aching back by day's end. "The thrill of seeing what God is accomplishing through dedicated teams outweighs the lack of creature comforts," says Dr. Wiebe. As so often happens, one good deed leads to another.
Even before graduating from the University of Alberta in 1992 with a doctoral degree in dental surgery, Dr. Wiebe began honing his extraction skills by volunteering with the Evangelical (now Education) Medical Aid Society in Ecuador, where many patients suffered from severely decayed teeth. Those skills have proven valuable in countries such as Nepal, where in 1994 people were dying of infections rooted in their teeth—and dentists were so rare that Wiebe's nickname became One-in-a-Million. "Extractions are in some ways the most barbaric part of dentistry," he reflects. "It is hard to fathom that something so simple to provide in Canada can be lifesaving in another country."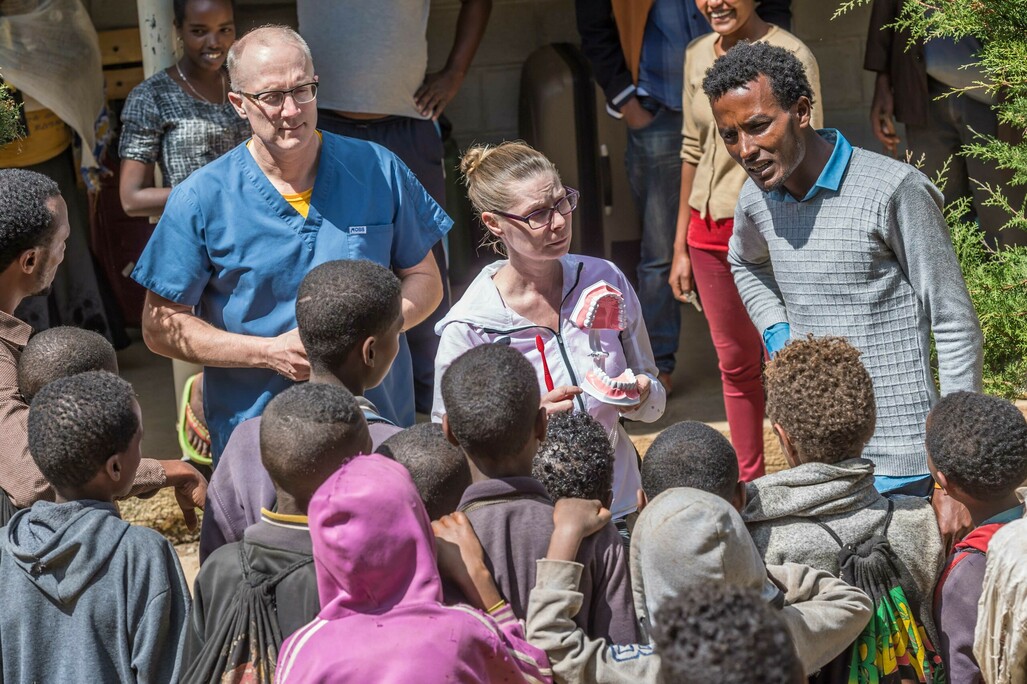 After dental school, a hospital residency alongside oral surgeons at the Royal University Hospital in Saskatoon gave Dr. Wiebe a fast-tracked course in dental implants, which were just gaining acceptance in the late 90s. That experience led him to specialize in periodontics and implants at the University of British Columbia (UBC). Graduating in 1997 with a specialty diploma and a master of science in clinical dental sciences, he accepted an invitation to join the faculty at UBC, opening up new international opportunities. Research in the jungles of Panama with an isolated group suffering from Kindler's Syndrome, for example, led him to link that skin blistering disease to aggressive gum disease in children as young as 13.
In 2001, Dr. Wiebe, his wife Patty, and daughter Janelle headed to Calgary in search of an affordable home for their growing family. He continues part time at UBC, collaborating on research into wound healing while also supervising graduate students, a task he does not take lightly. "When students are motivated to learn and serve, it is so exciting to be part of their education," he says. "I'm responsible for what they're doing with that scalpel."
Not that life has been stress-free. Daughter Isabelle was born in 2001 with hypoplastic (undeveloped) heart syndrome, spent months in critical care, and underwent multiple surgeries at the Stollery Children's Hospital. "That has been the most difficult part of my life, hands-down," her father says. With the support of mentors who, "just like at King's," made space for her to follow her interests, Isabelle is now a thriving 17-year-old who (perhaps inspired by her active father) has run triathlons, played on the Trinity Christian School basketball team, and finished 5km fundraising runs for the charity Heartbeats.
Looking back, Wiebe appreciates the variety of courses required at King's. "It gave me a whole different way of looking at the world," he says, recalling his shift from being a reluctant reader to having multiple books on the go at all times. "If I had taken only science courses, it wouldn't have exposed me to the areas I now find so interesting beyond biology." Decades later, he took a King's political science course long distance, paying another class member to video the lectures. As his two daughters enter post-secondary programs, he encourages them to explore subjects beyond their majors.
Now 53 and still grateful for his formative time at King's, Dr. Wiebe not only mentors aspiring dentists but has created the Cook-Mahaffy Scholarship to support science students at King's. He recalls breaking an expensive round-bottomed flask in organic chemistry lab and approaching Dr. Mahaffy, chequebook in hand, only to hear him say: "No, no, you don't have to pay for that; but when you're rich and famous, remember King's."
"So I'm paying King's back for that round-bottomed flask," Wiebe says laughing.
In truth, Dr. Wiebe is not so much paying back as paying forward, helping other science students experience the learning and relationships that made the difference for him.