King's launched a running club this fall, with the goal of becoming an official ACAC team by next year. Coach Ralph Troschke answers a few questions about what the season has been like and the next steps for creating a new group of Eagles.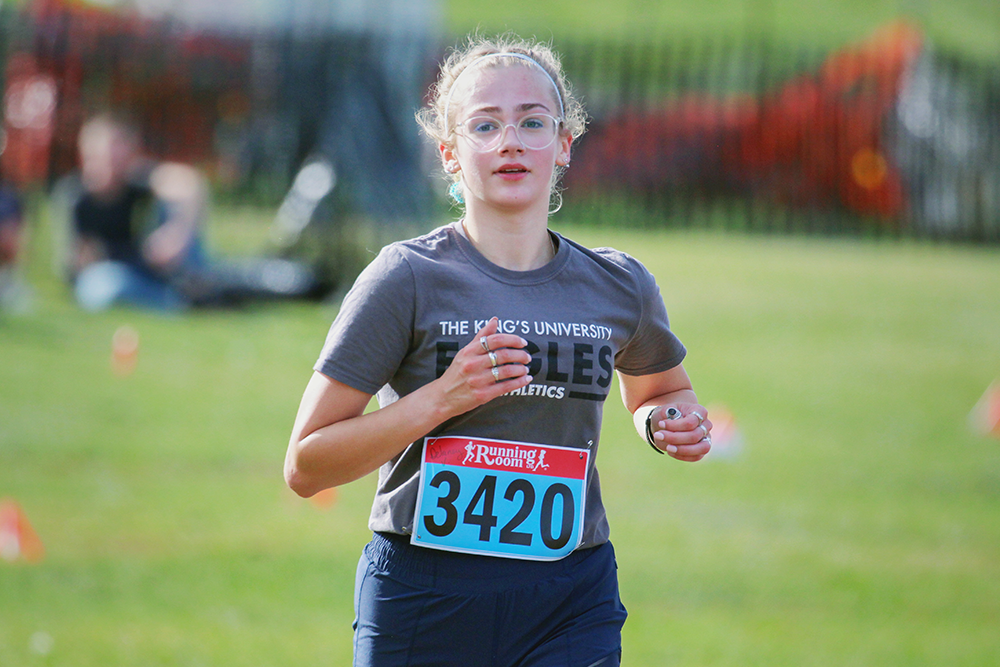 How did the running club come about?
The running club was a student creation started some four to five years ago. One student who had an interest in running got a small group together and the SA funded some of its expenses. King's took over the club this year as a first step to creating an ACAC team. As part of their application process, the ACAC wanted to see student interest in running to ensure the club would be sustainable.
What response did you get from student athletes about forming a club?
Student athletes are very excited about this! They appreciate having leadership and coaching which has helped add structure and progression to their training plans. Students are excited about the chance to turn the club into a full blown athletic team. There is keen interest in becoming Eagles.
What is your coaching style?
This is an individual sport. Each athlete comes with their own goals in mind. Some want to win, others want to participate, some come to get fit and some just to hang. I am very laid back about allowing each athlete to compete at their own level of comfort. Running teams have no fixed limits (unlike say a basketball team). The groups are completely expandable and contractible. King's allows all students to join and work toward their fitness goals. 
Where has the club competed and what have been the results?
The group has competed in ACAC meets twice so far. The third meet is this weekend, October 16. Given that the team is a collection of recreational runners (at the moment) and have had only six weeks together, results have been very satisfactory. We had one female and three males at our first meet in Edmonton. And three females and five males at the second in Camrose. A team is defined as a minimum of four runners. At the second meet, our men were 7th of 11 teams. These are really decent results given that normally the top six teams in the conference get chosen to go to Nationals. Our goal will be to place top six next year.
What is the plan moving forward?
ACAC applications are due November 15 with a response guaranteed by Christmas. King's expects to be allowed into the ACAC running contingent for next year. This will allow us to fully compete in cross-country running in Fall 2022. We will also be invited to participate in the ACAC indoor track program in Winter 2023.
When the team is officially established will runners of all skills and abilities continue to be accepted or is the hope to field more competitive athletes as the team grows?
The ACAC has always allowed runners of all sizes and shapes to join. The recreational runner cannot do the championship meet and is ineligible for Nationals. Otherwise, they are free to participate in meets.