Back to News and Stories
Singing together: technology and Innovation make pandemic choral experiences possible for King's students
Because of the hard work of King's Choral Director, Dr. Melanie Turgeon, The King's University Music program is the only program in Edmonton, and possibly Alberta, conducting choir lessons and rehearsals in person this season—all the while ensuring safety measures are in place which meet or exceed Alberta Health Services (AHS) guidelines for post-secondary institutions.
In accordance with AHS guidelines for singers, the Chamber Choir sings in 30-minute intervals, moving between two classrooms or singing outdoors to allow for proper air circulation. Placement stickers ensure adequate distancing, barriers have been installed near the piano to separate conductor and pianist from the choir, and each performer is equipped with a 'duckbill' singer's mask, which is thicker and larger than standard non-medical masks.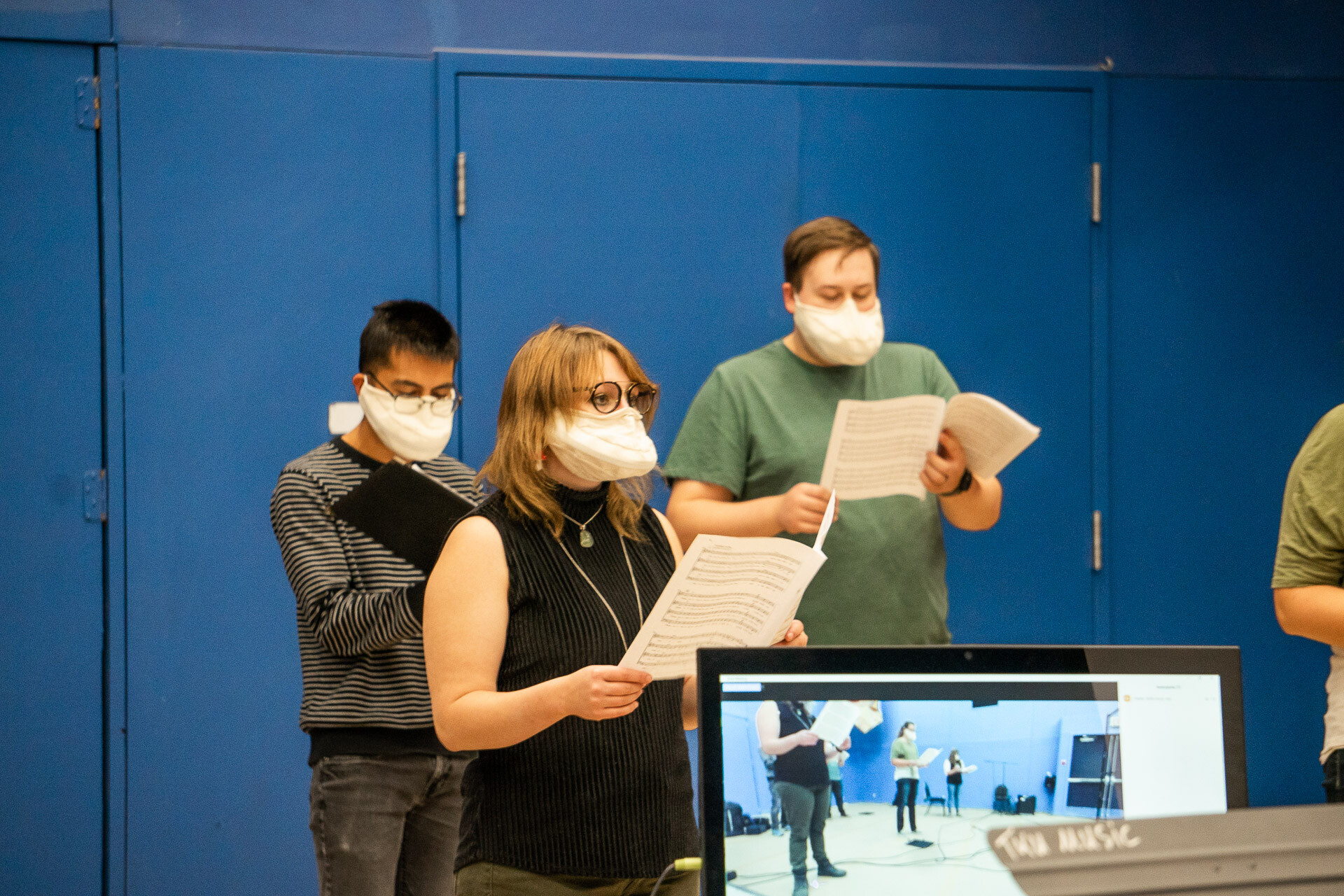 "It was a little odd to be doing choir in person after a socially distanced summer, but now that we're back at it, I realize just how much I missed singing in a group," says Chamber Choir singer and fourth-year student, Bronwyn Miles. "There's definitely been some adjustments, both for the choir as a whole and for the singers as individuals, but wearing a duckbill singer masks is kind of fun and so is training our ears in a distanced practice. Being part of the King's chamber choir has brought me so much joy these past few weeks, I can't help but love it, learning curve and all."
The Concert Choir is also making music together, albeit under slightly more prohibitive safety measures. As the Concert Choir is too large to meet entirely in person, a quartet meets in Knoppers Hall with singer masks, while all other students follow along online. New video cameras and professional microphones feed the quartet's contributions through a mixer to ensure the highest of sound quality for online participants.
"I feel incredibly lucky to still be able to be a part of choir in the midst of the pandemic," says fourth-year student and Concert Choir singer, Brianna Geddert. "It has been an essential part of the community I have built at King's and I was really worried about losing that connection to my peers. I am so impressed by the dedication that Dr. Turgeon has shown towards keeping us safe while also keeping choir light and fun."