Who knew that a crooked pine tree growing in the cracks of Alberta's foothills would prove to be the perfect metaphor for The King's University? Dr. Vern Peters smiles and shakes his head when he thinks of the past summer, his tenth with the limber pine conservation project. For four summers, he and King's biology students have gone on field trips to southwestern Alberta to plant seedlings. But this summer his travelling companions represented the broader King's community.

"It was really rich," he says, recalling a two-day bus tour in June with about 20 King's supporters. Joined by fellow Biology Professor Dr. John Wood, the group travelled to the Crowsnest Pass to see first-hand how the endangered limber pine is being restored.

"That was the part of the trip that was a nice surprise for me, hearing hearing stories from our guests and supporters about their personal investment to enable King's to get started. We had people who have been volunteering much of their personal time to create the kind of institution that has given voice to these kinds of ideas," Peters said.
These kinds of ideas include the stewardship of creation and how believers work in community to protect and renew the natural world that God has ordained.

Judging by the comments of those on the tour (see sidebar on page 25), the struggle to restore the lowly limber pine, which has been on the province's endangered species list since 2009, truly captured the imagination of everyone on the bus trip. Participants were fascinated by the limber pine's role in the lives of birds, animals, and spring flooding in the foothills.

"You never find a straight, well-growing tree," says Peters. "They have this windswept, enigmatic appearance on these rough, inhospitable ridges in Southern Alberta. So it's more symbolic of the ability to weather hard times and kind of respond to that in how you grow, never to form something that would have immediate economic value, but that has incredible wildlife value."

The successful tour on June 24 to 25 with a group of King's supporters served to amplify the vital role ordinary citizens can play in conservation and in the restoration of imbalances in nature.

"Our greatest resource is the people," Peters says. "There's something transformational here that goes beyond this particular project, so it's been a vehicle to involve people in the broader mission of King's."

With a background in forest ecology and fire management with the government, Peters began to teach conservation ecology at King's 12 years ago. It wasn't long before he began engaging students in the implications of declining tree species. Something about the limber pine resonated with students, inspiring their undergrad research and leading at least one to continue it at higher levels.

"It's an extremely interesting species because large seed production events can attract seed dispersers, like the Clark's nutcracker bird," he says. "It was one of these examples that shows the wisdom of God in creation.

"He can design a bird to plant the tree that feeds the squirrel and sustains the bear. It is just a story of a web of interactions that is engaging and has a lot of unanswered questions and is timely in the province."

The flooding in High River in 2013 helped highlight the need for higher-elevation trees, like the limber pine, to slow down the deluges of spring melt onto mountain communities.

"We were able to see what the relevance of this is to me, not just to the parks I like to visit," Peters recalled. "So that animated a
fair bit of our tree-planting work. If I engage by planting a tree, I stabilize the soils that will reduce the runoff. We can do something that is meaningful in this place."

The tree-planting expeditions now also include students from Immanuel Christian School in Lethbridge. A report on their activities in 2015 and 2016 shows impressive numbers: one summer 45 Grade 9 students planted 200 seedlings produced in the King's greenhouse; the next, 45 Grade 10 students planted 1,000 seedlings.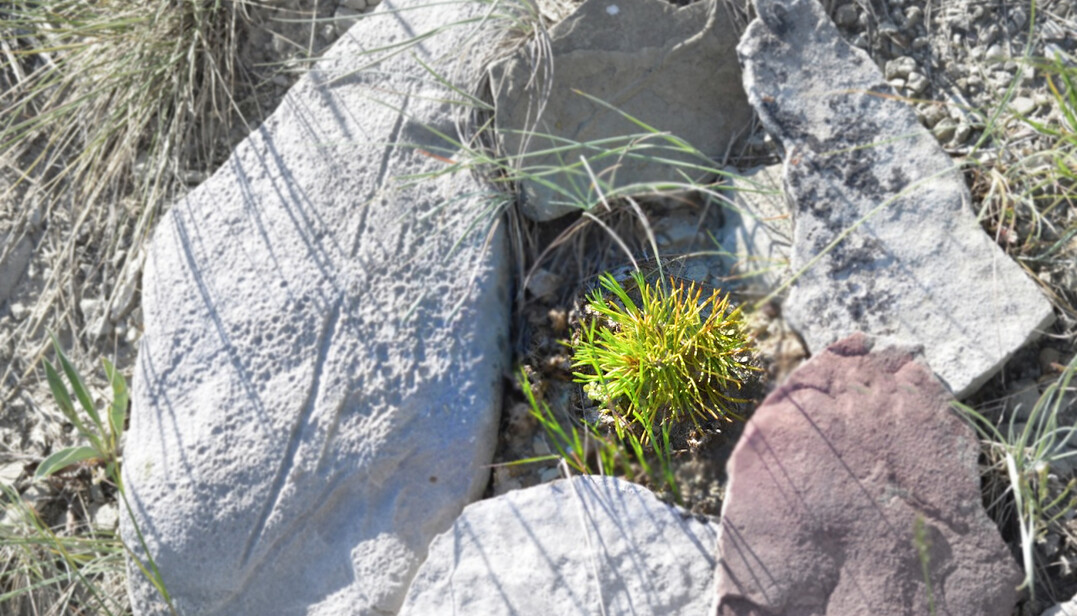 Planting limber pine seedlings is painstaking and hard work, often demanding planters wedge a shovel into cracks in the rocks. If one-third of the seedlings survive after two years, "that's your measure of success, pretty well your best-case scenario," says Peters.

"How do we labour at something where it seems our efforts are small, and the challenges are great?"

Peters points to the seed metaphor, familiar in Bible stories. "How do we model that small actions can amount to something that can animate a community and gain traction, and yet address a societal need? It's powerful."

He takes heart from the biblical account of Noah's ark, where a bird is a symbol of hope. Clark's nutcracker helps keep hope alive in the ongoing struggle to restore the limber pine.

"If we can ensure that we have enough trees just to keep them in our landscape, then those trees that do take root will provide the seeds that these birds will distribute and ensure the limber pine's survival."

Peters and his groups of students began planting seedlings four years ago before any provincial funds were dedicated to the actual recovery work. In 2014, the government initiated a five-year recovery plan for the limber pine, a move that comes with funding, but the limber pine is one of 50 species listed.
While Peters regularly consults with government scientists, he knows that public funds will never cover all of the work that
needs to be done.

"This is an initiative that arises out of who we are and what we value at King's. We realized we can still be engaging communities and raising awareness in advance of efforts to get larger-scale buy-in. We are modelling a way in which we as people who live in these landscapes value this and could potentially respond to these issues, to show our commitment, that we don't rely solely on the government."

The reality in 2017 is that King's is attracting government grants for field trips and impressing scientists with the level of community engagement in its conservation work.

"It's a timely issue," Peters says. "How do we as scientists talk about our engagement with people most affected by our
research? Do we actually create ownership? That's our hope."

Larger scientific organizations are now recognizing that scientists benefit from partnering with faith-based groups in order to accomplish conservation goals; public funding is never enough. Peters had presented before meetings of the Society of Conservation Biology on how to engage faith communities to do science-based work.

In September, Peters accepted an invitation to address a conference of the White Bark Pine Ecosystem Foundation in Jasper, the first time this international organization has ever held a conference in Alberta.

"We have a perspective on engagement that is informative to the highest levels of science," Peters says. "There's something about our community and the way we envision scholarship that calls us into expression and engagement. It allows the teaching and the research to fit together with our sense of service. It becomes an expression of just trying to be faithful.