Back to News and Stories
Trees for Tomorrow: Planting for the Next 40 Years
December 3rd marked the launch of King's annual Giving Tuesday campaign, Trees for Tomorrow, to plant more trees on campus and naturalize existing campus green space.
If you've never had the privilege of visiting The King's University, I'm going to let you in on a little secret — it's not located in the prettiest part of town.
King's borders on a major industrial hub. Like other Christian universities, when the time came for King's to find a campus, budget limitations put the best locations a little out of reach. When King's found the Capilano Motor Inn and the Alberta Liquor Control Commission building in 1989, it was a God-send.
Thirty years later, today on King's campus you will find state-of-the-art research equipment, award-winning faculty, and some excellent new additions to the original hotel. King's has come a long way, but it's still safe to say that students don't come to King's for the campus.
What if they did? December 3rd marked the launch of King's annual Giving Tuesday campaign. This year's cause, Trees for Tomorrow, promised to plant more trees on campus and naturalize existing campus green space. The campaign launched with an initial goal of $4,000. By noon, the campaign goal had been raised twice. By 11:59 p.m., over $11,000 had come in the door. To date, the campaign has raised over $35,000. Thanks to the generosity of these donors, over 160 trees will be planted on campus this summer and a new native prairie grasses preserve, developed.
The hope is that students and visitors who arrive on campus won't see a cluster of buildings on the edge of an industrial park, but a verdant oasis – a special place that stands out from its surroundings. A campus that exudes King's commitment to stewardship and renewal and demonstrates the difference Christian universities like King's make in the world.
In a way, Trees for Tomorrow is another iteration of a story as old as King's itself –a story about doing more with less. A story about active hope in the face of challenges. A story about renewal of all things. It's a story King's invites its students to participate in everyday in the classroom. Planting trees and campus naturalization efforts are just visible manifestations of what King's has done for 40 years and counting.
Will students choose King's for it's campus once these trees are fully grown? Perhaps, but our hope is that they choose King's because of what these trees represent.
North Property Proposal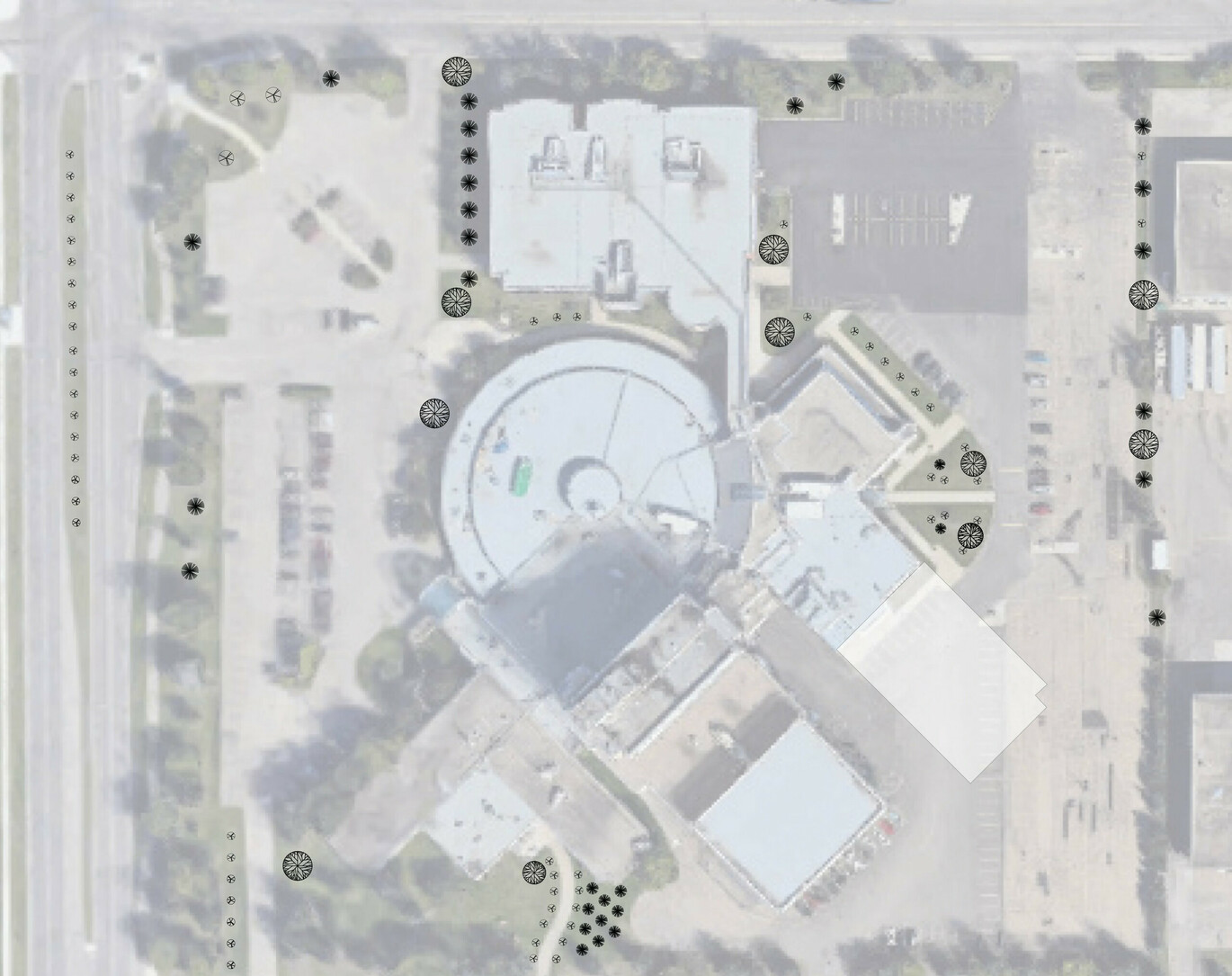 Large Architectural Trees
Large deciduous trees (15ft plus) in addition to smaller plantings will provide immediate relief to the look and appearance of campus, providing stability to key entrances and improving first impressions of The King's University.
Board of Governors Grove
Funded from donations by King's board of governors, a grove of small decorative pines will provide definition to the picnic and bonfire site immediately outside of the Level Coffee House. The grove will section off student green space from a nearby parking lot and form the beginnings of a campus quad.
Knoppers Hall and Back Path
For many commuting students and campus visitors, King's rear entrances are our main entrances—in particular, guests of Knoppers Performance Hall and the campus drama theatre. Trees will improve these critical campus approaches.
Tree Planting on Median
With support from the City of Edmonton, King's hopes to see trees planted along the medians on 50 Street. This will provide a much needed green touch that will improve sight lines for all, and establish the university as an important landmark.
Enhance Existing Canopy
Tree infill will close gaps in King's existing campus canopy, ensuring an enhanced sense of 'campus' that stands out from the surrounding industrial landscape.
South Property Proposal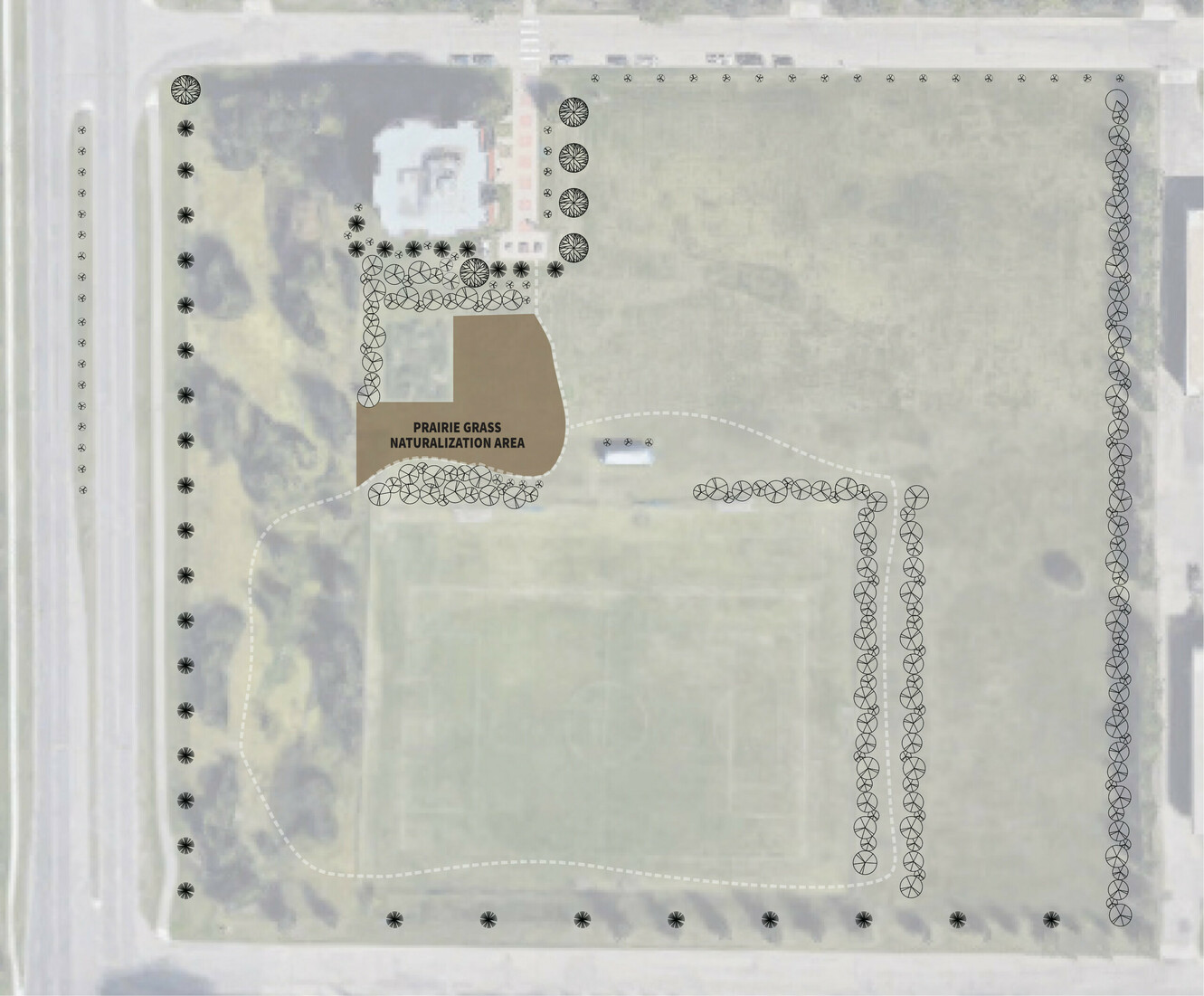 Swale Naturalization Enhancement
Native vegetation and tree species will be planted along the exterior of the existing campus swale to enlarge and enhance this naturalized space.
Soccer Field Perimeter
The Eagles soccer pitch will be enclosed with tree saplings which, once mature, will enhance sight lines and provide some shelter from the wind.
Prairie Grasslands Restoration
(additional funding required) A naturalized prairie tall grasses preserve will be developed over time by importing sod and seed mixes from around the Canadian prairies to the south field at King's.
Future Multi-use Trail
(additional funding required) Newly-greened campus spaces including the campus quad, board of governors grove, prairie grasslands preserve, and swale will be connected by a multi-use trail loop that will enhance student fitness, wellness, and community use of campus.