The Eagles are medal carriers once again as women's volleyball placed third in the ACAC Championships on March 12, winning a fourth set against the Briercrest Clippers in Red Deer (14-25, 25-23, 25-20, 25-21).
"Going into the final four, we knew it was going to be a tough battle," outside hitter and fifth-year secondary education student Lauren Kroetsch says. She was player of the game on Saturday with 13 digs, 11 kills and one block. 
The women played hard against the Red Deer Queens in the semi-final the previous night on March 11 but came out short in a five-set match.
"After the loss, it was very emotional for our players, but we held our chins high knowing we gave it our all. Going into the bronze-medal match, we were confident in our play and what we could showcase. Our team battled hard to win against Briercrest," Kroetsch continues. "Looking back on the season, we fought extremely hard to earn our ranking in the North. We lost a few matches early in the second semester which taught us important lessons. Leading up to the final four, we ironed out our game and united as a team to reach a new level of play. We couldn't have done it without our coaches, they all pushed us in different ways to reach our full potential."
This is a fifth medal win for the women in league history (bronze 2020; gold 2019; silver 2016; bronze 2007) as well as winning silver at Nationals in 2019 and Head Coach Grace Scott is extremely pleased with how her team pulled it off after a shortened 2021/22 season, and having the 2020/21 season cancelled due to COVID-19 regulations.
"As coaches, we could not be more proud of the accomplishments of our team! In addition to having a few members of our team out with COVID throughout the season, we also had to battle an unprecedented number of injuries. We only had two practices in the fall semester where we had our entire team training together. Throughout this time, our team continued to believe that we had the potential to go to nationals, and by the beginning of February we were peaking at just the right time," Scott says. 
"A great deal of credit goes to our captains Lauren Kroetsch, Kristyn Shannon and Jada Lea whose loyalty, commitment and relentless pursuit towards our team goals helped bring home a bronze medal at the ACAC Championships. We also had a lot of young talent on our team this year, so we are very much looking forward to what God has in store for our team next season."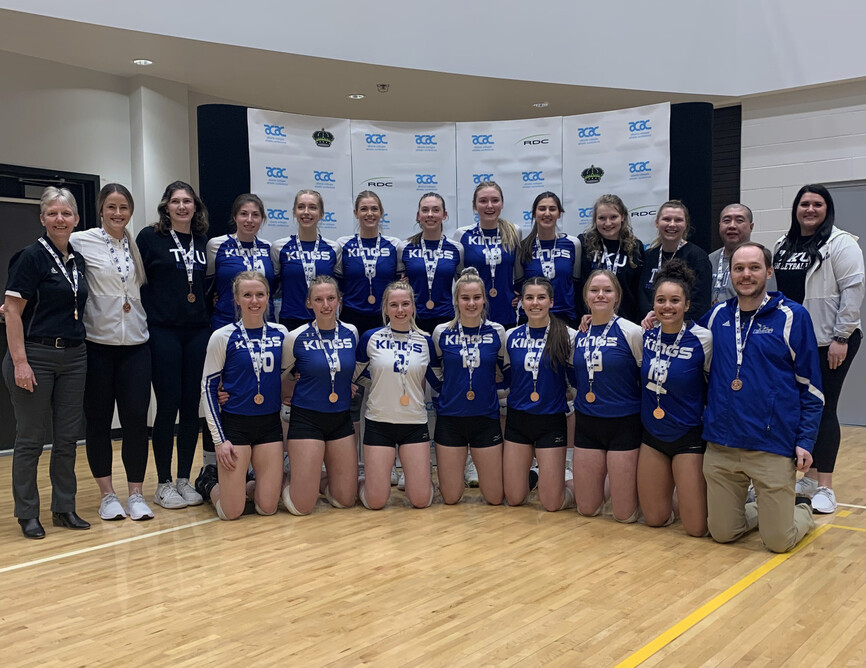 Men's volleyball also played the Clippers in a bronze medal match at NAIT on March 12, losing by two points in a close fifth set (19-25, 27-25, 25-19, 18-25, 16-18).
"I'm so proud of this team. Everyone gave everything they had to get us to this point," libero and fourth-year social science student Kaiden Aceron says. He was player of the game with six digs and two assists.
"Although I'm obviously disappointed with the result, I have no regrets with the way my team and I played. Both teams fought and it really could have gone either way. I'm so grateful to have played alongside these guys this season and I'm honoured to be a part of this program."
In the semi-final against the Red Deer Kings the previous night—ACAC champs this year—the Eagles were within two points for the first two sets, ultimately losing 3-0 as Red Deer played a more effective serving and passing game.
The Eagles have made it into the final four only four times before—but it's been more than a decade—so making it this far was quite an accomplishment (bronze 2011; bronze 2005; 4th place 2004; bronze 2003).
Head Coach Patrick Winand has been with the team for three seasons and is proud of how well they played and what they've learned by making it into the playoffs.
"We have an incredibly talented group of guys this year. Having had the second highest win-loss ratio in the league going into the final four championships, we knew there would be a target on our backs. Leading the CCAA in assists per set and dominating the North in kills, we knew we had a shot to take it all," Winand says. 
"The talent in the final four was fantastic this year. We've faced each of the teams at least once, and defeated them all, but we are not surprised that each team brought their best game against us. All of the credit for our success needs to go to the resilient leaders on our team. A special shoutout goes to our captains and Mason Gorski, first-year rookie setter, who carried this team on his back and earned ACAC Rookie of the Year. The majority of our team is returning next year and with a couple of additions, our goals are right back in sight for winning the championship. Thank you to my guys for an incredible year. I can't wait for next season."
The Eagles have shown a lot of grit and resilience in this comeback season, rising above the obstacles of COVID-19 regulations, rapid tests and a lot of red tape to bring home one bronze medal and another close finish. Way to make us proud!