Back to Blog
An imposter takes the stage in King's fall drama production
Nov 09, 2017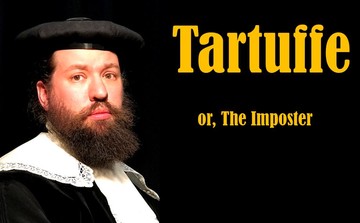 Each year, the drama department crafts an elaborately staged and elegantly performed play. Last year, it was a series of sold-out shows on Anne Frank.

This year, prepare to laugh as you meet a vagrant posing as a pious clergyman, watch the declaration of an unwanted arranged marriage, and listen as a plot unfolds to expose the vagrant before it's too late. Tartuffe, or The Imposter, by Moliere is an old French comedy with timeless wit and insight.  In 1664, the play was highly controversial as it portrayed a suspicious man playing at piety and religious authority.

Professor of Art and Drama Daniel VanHeyst offered insights and fun facts about the upcoming show. Following the Q&A is a special note by the director, Aaron Krogman.
Q: What drew you to Tartuffe?
A: Moliere's insight into people's motivations and actions is so sharp! He creates characters and situations that make sense to us 300 years after he wrote them.
Q: What is the most complicated part of this production?
A: The costumes. We are trying to suggest the historic period, but also show who these people are to our modern audience who are not familiar with 17th century European fashion. Our own costume collection is mostly modern clothing, so it has been a challenge to find things that work for this play that fit our cast members. We also built a pretty substantial set with baroque detailing, which was a big job to build and paint.
Q: Do you have a favourite character?
A: I love the character of Dorine, the maid. She is such a shrewd judge of character. She loves every member of the family and is fearless in telling them what she thinks about the trouble they get themselves into. It is terrific that Moliere, 300 years ago, created a "low status" female character who is the smartest, most loyal, and warm-hearted person in the story.
Q: What are you most looking forward to the audience experiencing?
A: I am interested in seeing the audience respond to Tartuffe, the imposter, who is being played by our mathematics professor Dr. Rem Kooistra.
Q: Any fun facts to share?
A: This adaptation was written by Brian Paisley, who is famous as the founder of The Edmonton Fringe Festival. Another is that our stage manager, Taylor Cameron, is a King's English/drama grad who returned to volunteer her time and experience from past King's drama projects.
Director's Note – Aaron Krogman
Moliere is a fascinating playwright. One could conclude he was a secularist, or a misogynist even, given the reviews of recent productions of Tartuffe I've read. Historically, it is arguable that he was neither: while he was critical of aspects of the church, and this play sounds that note strongly, Moliere himself was a Christian, concerned about promoting a Christianity of word and deed. If you listen closely, you can catch Moliere's heavy caution against the misuse of reason.

Moliere also wrote parts for women, including for his theatrically-talented wife, that were strong and daring. His plays often display women as full of insight and wisdom, even driving the action. Not only does this play have themes that are ever relevant, but many of the scenes of Tartuffe are some of the finest I've come across.

Moliere's play has stood the test of time, surviving translation and adaptation, to arrive on this King's stage, and I trust you'll experience why this storyteller has had such longevity.


Tartuffe runs from Thursday, November 16 to Sunday, November 19. Tickets can be purchased online, at King's Bookstore, or at the door—if they don't sell out first!