Back to Blog
Eagles Announce New Coaches for 2017–18 Athletic Season
Sep 11, 2017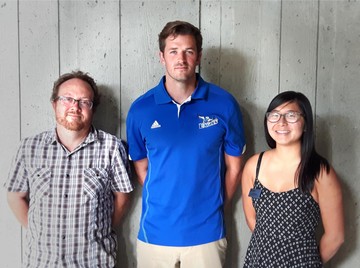 The King's University is pleased to announce two new head coaches and a new staff member in the Athletics Department.

Todd Van Driel and Mark Sandle are new head coaches for the 2017-18 season. Van Driel is acting head coach of the men's soccer team, and Sandle is head coach for the women's soccer team. Abigail Douglass is the new athletics and recreation coordinator and is a recent King's Bachelor of Commerce graduate.

Van Driel has been actively involved in the King's Athletics Department, previously as an assistant coach for the men's team and goalkeeper coach for both soccer programs. Van Driel uses his experience as a player to foster a level of intensity, comradery, work ethic, and approachability with his team. He is looking forward to continuing and building on his work with Eagles athletes as head coach.

Sandle began his coaching career in England and came to King's to teach history in 2009. Sandle believes history works like a window and a mirror: it gives a glimpse into how others have lived and also helps people to be more thoughtful about how they choose to live in the present. Sandle brings this same approach to coaching, helping his players reflect on themselves and develop, not just as players, but as people. Sandle is looking forward to helping his players improve both individually and as a team.

Abigail Douglass has been actively involved with the King's Athletics Department as student game day manager as a student, as well as serving for three years on the Students' Association. She was the president of The King's University Students' Association for two years and vice president of events for the Leder Students' Association. She is excited to join the athletics team and is looking forward to her new role.