Back to Blog
Celebrating 5 years of partnership with Christelijke Hogeschool Ede (CHE) Netherlands
Feb 06, 2019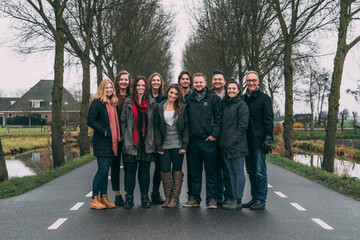 For the fifth time since early 2015, business students from King's have participated in a unique cross-cultural experience offered through a university in the Netherlands. Between January 7-18, 10 business students took part in an exchange program with Christelijke Hogeschool Ede (CHE). The experience focuses on experimental learning, personal growth, cross-cultural learning, and challenging conversations about faith and relationships.
The CHE exchange immerses King's students in the Dutch way of life. Students live with host families during their stay, receiving a bicycle as their primary mode of transportation, and learning about life in the Netherlands comes directly through day-to-day experiences.
While on the exchange, students visit museums in Amsterdam for lessons in world history, get a glimpse of life during the wars, learn the history of Anne Frank, and experience local art, music, and culture. The group goes on a trip to Rotterdam to take in modern art and architecture.
Smoothly integrating each key concept is a strength of the CHE exchange and an important debrief day encourages students to think about how they can take what they have learned into their studies and workplaces.
"Students continually agree that this is one of the best experiences of their degree," shares Megan Apperloo (B.Com., '20) enthusiastically.