Back to Blog
Challenging society's ideas about success: King's conference explores blessed living in a broken world
Jan 17, 2018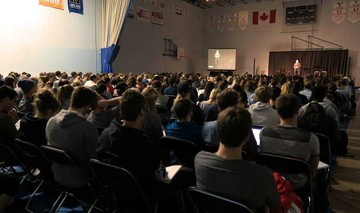 What does it mean to live well in a world that is so obviously unwell? This is the focus of the upcoming Interdisciplinary Studies (IS) Conference, Blessed Living in a Broken World, at The King's University on January 24 and 25.

Western society focuses on shallow definitions of what being "blessed" looks like: work-life success, possessions, outward appearances, and symbols of wealth. But the truth is that vision of a blessed life is poisonous, leaving behind many who are harmed spiritually, socially, and emotionally by a broken world. With this in mind, how do Christians and people of faith challenge this idea of what it means to be blessed?

The conference will dive into an upside-down vision of wellness from the gospels and Beatitudes. Attendees will learn about challenging societal norms by exploring practices that, rather than seeking individual gain, seek the good of others.  

The keynote speaker is Reverend Dr. Margaret Aymer, Professor of New Testament Studies at Austin Theological Seminary, and author of several books including Confessing the Beatitudes.

The conference runs from 9 a.m. to 3 p.m. each day, beginning in the gym, with breakout sessions from 10:45 to 12 p.m. in various classrooms. The entire event is free, and members of the public are invited to attend. A showing of the Fringe play "Freud's last session" will take place Wednesday evening and is open to the public as well. Tickets are available on Eventbrite.

For more details and a schedule of events, go to the IS Conference's page on our website.