Back to Blog
Community Engaged Research: Dancing to the client's tune
Apr 05, 2018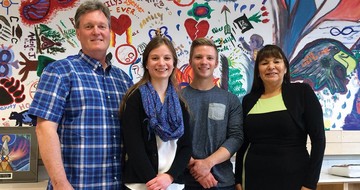 "It's quite a dance." That's how Laura Rogers, Coordinator of Community Engaged Research (CER) at King's, describes the art of turning a need expressed by a community agency into a purposeful research project that benefits both students and the agency. "It's a really fun dance, especially at the beginning when we're matching the projects of our community partners with faculty and then students."

Students at The King's University have been doing community-based research for decades, but Community Engaged Research as a distinct entity launched in 2014 out of a desire to build significant opportunities for hands-on research that integrates community needs into the curriculum. Led first by Dr. Julie Kaye and now by Dr. David Long, CER has already enabled student researchers from sociology, psychology, environmental studies, and business to serve the research needs of a wide variety of local agencies.

"CER differs from the typical internship experience in that its research-based and focuses on addressing the agency's rather than student research questions." Dr. Long says, "The fundamental question we ask is 'What do you need?' There's a wonderfully biblical spirit in that, and it's what informs the entire relationship. It's a very clear expression of King's Vision 2020 statement of developing mutually beneficial partnerships with people in the community."

The dance of assembling a CER team often draws on past relationships. A project for Terra Centre for Teen Parents of Edmonton, for example, surfaced when Director of Community Engagement Karen C
aine called to alert Dr. Long that a funding proposal he had helped write was bearing fruit; now they needed research assistance to help plan their teen fathers program. Dr. Long had just put down the phone when a student who was intent on pursuing social work wandered into his office seeking an opportunity to work with young parents--a perfect fit for a project that would help met the immediate needs of Terra and the teen dads they serve. "That's a really good example of how we see CER," Dr.Long says. "It's about matching student gifts and interests with needs of community organizations."

CER is unique in giving students close supervision rather than expecting partner agencies to do so. Each student is teamed with a faculty member as principle investigator and mentored at every step, from confirming the research question and applying for ethics approval to liaising with clients and presenting findings. Faculty and students receive additional guidance from Laura Rogers, an occupational therapist whose background in research coordination is proving invaluable.

Unlike the typical class assignment, a CER project may continue after the student has left. "King's owns the project with the community partner, not the students," Rogers says. "They learn that they are part of a research team."

Even so, students say they benefit enormously from the experience. Besides cultivating research skills as well as the ability to think critically, listen respectfully, and work on a team, students involved in CER projects are exposed to an array of career options and forge relationships that in some cases translate into jobs. As CER student Jeremy Kieftenbeld says, "King's is a safe haven, but CER kind of pokes that bubble, I think, and gets you thinking."

What's more, many of the projects help to effect concrete change--for example:
Analysis by Spencer Klug with Dr. Long for the Father Involvement Network of Edmonton and Region (FINER) helped 50 family support organizations to see how changes in their use of social media would enable them to better engage and serve their clients.
Work by Jeremy Kieftenbeld and Nicole Gingrich with Dr. Leanne Wilson and Laura Rogers alerted a Scoliosis Alberta parent group of an unmet need for teachers to understand scoliosis, prompting the group to begin developing educational materials for schools.
Research by Emily Anderson, Derrick Kwantes, and R. Long for the Creating Hope Society informed local as well as national policy discussions about positive ways to support Aboriginal male youth involved with the criminal justice system.
Dr. Willson and Michelle Martyniak worked with the Centre to End All Sexual Exploitation (CEASE) to develop methods to assess pornography use among men mandated to attend Edmonton's Prostitution Offender Program, otherwise known as "John School."
"These projects generate more interest than my basic empirical research," says Dr. Willson, associate professor of psychology. "The CER initiative really has tipped me into a productive phase of academic research, because I have students working with me and supporting my work--and holding me accountable, too."

Like many initiatives at King's, CER runs on a shoestring, with Rogers just half-time and faculty adding CER mentorship to already frenetic teaching schedules. Presenting alongside similar programs at conferences, participants have realized that most universities involve graduate students rather than undergrads and have budgets to pay mileage, transcription, research assistants, and other costs.

Capacity issues may constrain the growth but not the vision for CER. Rogers has a growing list of organizations seeking research help--a dance card with spaces to fill. "We have big dreams about where the program could go," she says. "It's gratifying to see students on fire with their work."