Back to Blog
Eagles Athletics launches new website
Nov 14, 2017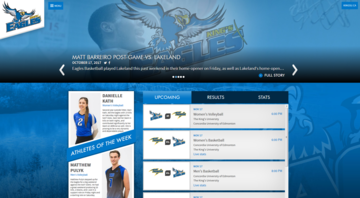 The King's Eagles are taking flight from a new website!

With game stories, stats, and live social media feeds for each our Eagles Athletics teams, the site comes with more than a fresh look. It will also be easier for sports fans to get the information they want about the teams they follow.

The new site features up-to-date team schedule information, live game results, and team and player statistics, thanks to a new interface with league statistic software.  You can also learn more about our mascot, Izzy the Eagle, order Eagles spirit wear like touques and shirts online, and lots more.

Stay updated on all things Eagles by bookmarking the site and by following them on Twitter and Instagram. Let's go Eagles!