Back to Blog
Eagles top Mystics; Advance to CCAA semi-final
Mar 07, 2019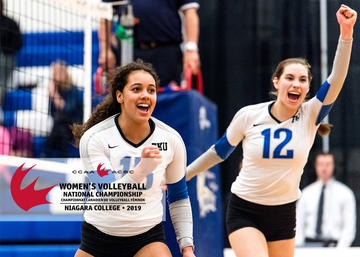 Welland, ON – The opening match of the 2019 Canadian Collegiate Athletic Association (CCAA) women's volleyball national championship saw The King's University Eagles advance to the CCAA semi-final with a hard fought five-set victory over the Mount Saint Vincent University Mystics. The set scores in the contest were 23-25, 25-12, 25-18, 23-25, 15-6.
The match-up pitted a pair of conference champions against each other, with King's (22-2) representing the Alberta Colleges Athletic Conference and MSVU (21-0) representing the Atlantic Collegiate Athletic Association.
The back and forth affair saw the two teams trade points and set victories from start to finish.
The Eagles were paced by a dominant three pronged offensive attack. Veteran third-year outside hitter Anna Janzen led the charge finishing with a game high 28 kills, while also adding six digs. Six-foot left side Jayden Bontkes finished with 22 kills and nine digs, while second-year middle Sydney Warchola was an absolute force defensively finishing with eights blocks and 12 kills. Janzen was named the Eagles player of the game for her performance.
"We weren't as consistent as we wanted to be, but we fought hard when we needed it and came away with the win," said Eagles head coach Grace Scott after the match. She continued, "Anna Janzen was our go-to today, and she managed to finish almost every ball she touched."
The Mystics were led offensively by fifth-year veteran outside hitter Madison Urquhardt. The Sussex, New Brunswick native finished with 14 kills and a service ace. The MSVU player of the game was towering middle blocker Laura MacDonnell who finished with eight kills and two blocks.
The win sees the Eagles advance to the CCAA Championship semi-final on March 8 at 6 p.m. against the winner of the Fanshawe Falcons and Douglas Royals match.
MSVU meanwhile will advance to the bronze medal quarter-final match-up at 3 p.m. on March 8.
---
Originally published by Niagara College. 
Niagara College is proud to host the 2019 CCAA Women's Volleyball National Championship. Niagara College offers more than 130 diploma, bachelor degree and advanced level programs; as well as more than 600 credit, vocational and general interest Part-Time Studies courses. Areas of specialization include food and wine sciences, advanced technology, media, applied health and community safety, supported by unique learning enterprises in food, wine, beer, horticulture and aesthetics. For more information visit niagaracollege.ca.