Back to Blog
Eagles volleyball recruits four of Alberta's best players
Mar 08, 2018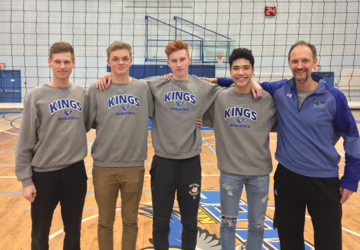 The King's University Eagles have recruited four of the best volleyball players in Alberta.

These players were each members of Edmonton's NOOKS Volleyball Club, which won first place at the U17 National Championships in 2017.

Phil Dixon, Head Coach Men's Volleyball, was thrilled to have signed commitments from these talented and provincially-recognized players, saying they would be a great addition to the team.

The new volleyball athletes include Jayden Hiebert (Living Waters Christian Academy, Spruce Grove), Tanner Piers (Edmonton Christian High School, Edmonton), Ross Bishop (Bellerose Composite High School, St. Albert), and Kaiden Aceron (Edmonton Christian High School, Edmonton).

Welcome to the Eagles, and we can't wait to see the energy and talent these players will bring to the court next season!