Back to Blog
Eagles volleyball take home eight ACAC awards
Feb 23, 2018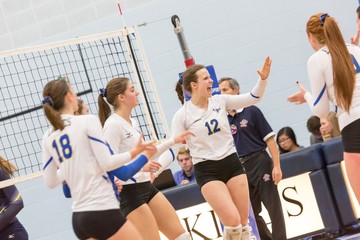 The King's University Eagles men's and women's volleyball teams were proud to take home eight volleyball awards from the Alberta Colleges Athletic Conference (ACAC) this year!

The awards were presented to the student-athletes and Head Coach Grace Scott at the 2017-18 ACAC Volleyball Championship Ceremony held February 21.

Congratulations to our Eagles volleyball athletes on being part of this year's ACAC Volleyball All-Conference Teams!
Award recipients
Female Coach of the Year – North Division
Grace Scott, head coach

Scott is a third-time recipient of this award (2006-07, 2014-15, 2017-18).
Female Rookie of the Year
Pamela Xu, first year, setter
Male Rookie of the Year
Evan Veldman, first year, outside hitter
Female All-Conference
Jayden Bontkes, outside hitter
Brittany Wells, libero
Sydney Warchola, middle blocker
Pamela Xu, setter
Male All-Conference
Evan Veldman, first year, outside hitter