Back to Blog
Efficient lighting systems reduce campus power consumption  
Apr 28, 2017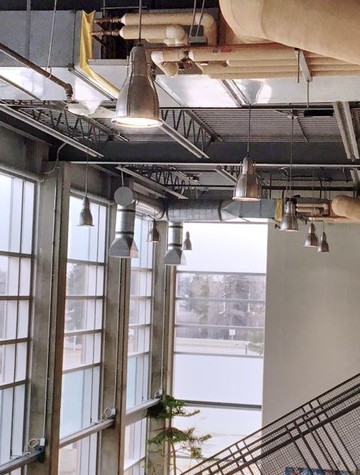 A lot of energy is required to light a university campus. With studies, research, and life in residence often continuing on into the late hours of the night, the lights are always on at The King's University – or are they? 
King's implements several power saving techniques to drastically reduce the amount of energy required to properly light an area. Skylights throughout the building provide natural light to otherwise interior spaces which offset electric lighting costs in these areas. The buildings daylight harvesting system uses lighting control devices which dim or switch off electric lights depending on the amount of daylight available.
"The pendant lights located in the North Academic Building are the most visible example of daylight harvesting on campus," says Director of Facilities, Rob Van Weerden. "These lights are attached to a photo sensor which switches them off automatically when daylight is sufficient to light the space."
In addition to daylight harvesting, all 150 watt lamp fixtures throughout the building have recently been retrofitted with 35 watt high intensity LEDs. This upgrade has resulted in a 77 percent reduction in power consumption, on top of the savings already produced by other methods.