Back to Blog
Ending Poverty a Business Challenge for Students
Nov 13, 2015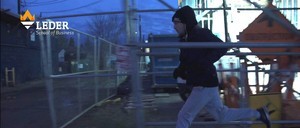 In collaboration with the City of Edmonton, the Leder School of Business at The King's University, revealed that the challenge of its first High School Competition is "End Poverty Edmonton". Leder School of Business High School Competition 
Fifteen teams from 11 different high schools from Edmonton and region have 10 days to create an action plan for the business community with the goal of ending poverty in Edmonton. The plans students create may be for an existing business or a new social enterprise, however it must address at least one of the recommendations in the End Poverty Edmonton report in a financially sustainable manner.
"We're pleased that this competition has created such interest with high school students. We all have a role to end poverty in Edmonton," explained Dr. Melanie Humphreys, President of The King's University, "Who better to help give a fresh perspective on the challenge than our youth?"
A total of 60 teens participating in the Leder School of Business 2015 High School Competition and are developing proposals to eliminate poverty in the city. Students will present their ideas to a panel of judges on Friday morning, November 20th at The King's University. Top teams progress to the final public judging from 2:00 – 4:00 which will be emceed by Sarah Chan and judged by members from the End Poverty Taskforce.  The event is open to the public.
For more information contact Catherine.kuehne@kingsu.ca 
About the Leder School of Business
The Leder School of Business is Canada's newest school of business. Founded in 2014, the school offers a 4-year Bachelor of Commerce (BCom) degree with specializations ranging from Accounting to Entrepreneurship to Environmental Sustainability. The Leder School of Business is located within The King's University in Edmonton, Alberta.
About The King's University
The King's University is a fully accredited Christian university based in Edmonton, Alberta, Canada offering programs in over 24 disciplines. King's serves over 760 students from across Canada and abroad, representing more than 16 nations. The King's University is recognized as Most Supportive Campus Environment of any Canadian institution, as measured by the 2013 National Survey of Student Engagement, and is in the top ten per cent of all colleges and universities in North America among its peers. 
End Poverty Edmonton
The EndPoverty Edmonton Task Force is composed of 22 leaders and community stakeholders and chaired by Mayor Don Iveson and Bishop Jane Alexander. Launched in March 2014, it aims to advance a vision of shared prosperity for all and create a city where every Edmontonian has an equal opportunity to live, work, participate and thrive.