Back to Blog
Fall Interdisciplinary Studies Conference features "What's Love Got To Do With It?"
Sep 15, 2016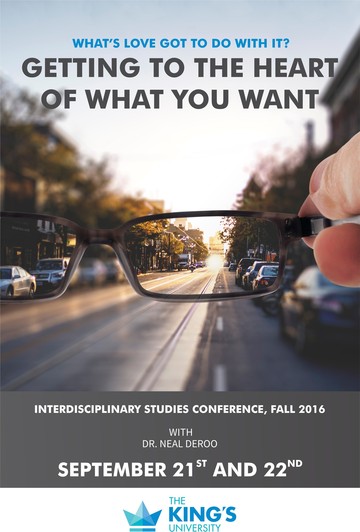 This fall, The King's University is providing an opportunity for students, the university community, and the broader Edmonton community to take two days to think about what they do and why.
The semi-annual Interdisciplinary Studies Conference, a two-day intensive seminar for university students that is also open to the public free of charge, is focusing this year on issues of desire and motivation. Keynote speaker Dr. Neal DeRoo, new associate professor of philosophy at The King's University, will present "What's love got to do with it: Getting to the heart of what you want."
"We live our lives trying to get what we want," DeRoo says in program notes for the conference. "Ultimately, this is an act of faith, of worship, not because it says something about what we believe but because, deep down, we are more driven by our desires than our beliefs."
The conference is an effort to help attendees slow down and consider what they really do want, and how what they want influences their thoughts and actions. It features a variety of keynote addresses, faculty interviews, and panel discussions.
"This conference is about us—about the things that make a place like King's so unique. It's about asking the big questions, interrogating assumptions, and re-examining the most basic things that we want in light of our faith," says Rebecca Warren, who is interim interdisciplinary studies director at King's and an organizer of the conference. "Most importantly it's doing all those things together—faculty, staff, students, and members of the public."
Warren is delighted that all of the conference sessions this fall (including keynotes by Dr. Neal DeRoo) will be presented by King's faculty, students, and alumni. She is continuing in the footsteps of longtime IS conference organizer Roy Berkenbosch, director of The Micah Center. Berkenbosch helped establish the series as a unique way to fill a core education requirement, while also providing a way to publicly engage the surrounding community, nearly 20 years ago.
"By the end of the four years, we're getting students coming voluntarily, because they understand it as the gift that it is," Berkenbosch said. "The purpose is officially to help students think in very foundational ways about what it means to be a learner, as they begin their work as Christian scholars and learn to think in an integrated way about faith and the disciplines."
Another benefit of the conferences is that they create a common experience for the campus community, and they provide fodder for ongoing discussions throughout the year. In fact, this year, art students in a Mixed media class have prepared small art installations responding to the theme of the conference, and attendees can browse a photography show in the Atrium that looks at the amazing places environmental studies students interned at this summer.
All are welcome to attend the conference, which begins with an 8:30 check-in on Wednesday morning, Sept. 21, and runs from 9:00 to 3:30 on Wednesday and 9:00 to 2:45 on Thursday.
The King's University is a Christian university that strives to build a more humane, just, and sustainable world, inspiring and equipping learners to bring renewal and reconciliation to all of life. For the full schedule of events for this fall's conference, please go to www.kingsu.ca/faculties/interdisciplinary-studies/is-conference.