Back to Blog
Frisian author, Hylke Speerstra, to visit King's for talk and book-signing
Jun 15, 2017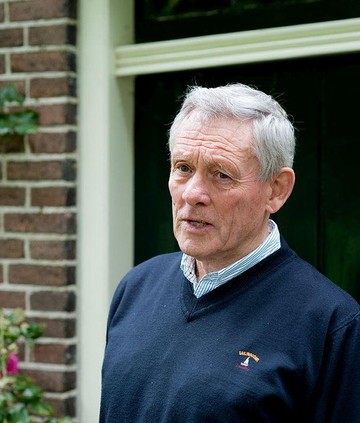 Acclaimed Dutch author from the Netherlands, Hylke Speerstra, will visit Edmonton to launch the English translation of his latest book, The Comfort Bird. The novel follows Frisian farm labourer families through three generations of emigration, economic depression, and World War II. The book is based on historical fact from interviews with descendants as well as extensive research into original sources that took Speerstra to the United States, Germany, and the Netherlands. The novel describes fraught journeys to America and back to Europe, as well as political turmoil, rebellion, and reunion.
Speerstra will be reading from his work and signing copies at The King's University Library on July 4, from 11 to 2 p.m.
The Comfort Bird follows two families. One family, desperate to seek their fortune on the American prairies, relies on their own hardy perseverance to build a life for themselves in America in the midst of The Dust Bowl during the Great Depression. But one can't leave the memories of Europe behind and enlists as a soldier to make it back home. He finds himself on Utah Beach—on D-Day. The second family remains rooted in Germany, hoping it is the truer promised land. Rebellious and searching for social justice, they make decisions that put them on the wrong side of history. World War II unites the families once again—on opposing sides of the conflict.
Speerstra writes with conviction and emotion about the proud people of a tiny patch of northwestern Europe. In 2005, Speerstra's collection of oral history emigrant memoirs was published in English translation as Cruel Paradise. Twelve years later, Mokeham Publishing is proud to release The Comfort Bird, Speerstra's second book to be translated from Frisian into English—by Prof. Henry Baron of Calvin College in Grand Rapids, Michigan.
Mokeham Publishing is a Canadian boutique publishing house, with its roots in the Dutch-Canadian community. It publishes a Dutch language monthly newspaper (De Krant) and an English language bi-monthly magazine (DUTCH the magazine). It also publishes books related to the Netherlands, with a special focus on the Dutch and their descendants in Canada and the USA.
If you are interested in a review copy of The Comfort Bird, would like to attend one of the events, or want to arrange a meeting with Speerstra, please email publisher@mokeham.com.
The Comfort Bird by Hylke Speerstra
Translated by Prof. Henry Baron
Published by Mokeham Publishing Inc.
PO Box 35026, Oakville, ON L6L 0C8
905-465-0777 – publisher@mokeham.com
www.dutchreadz.com