Back to Blog
Give mental health for Giving Tuesday
Nov 28, 2017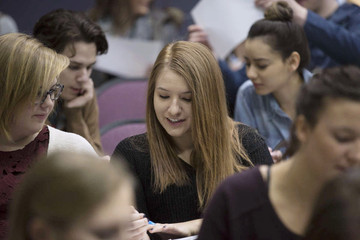 After the rush of Black Friday and Cyber Monday sales, Giving Tuesday is a breath of fresh air.

The King's University does a campaign each year on Giving Tuesday that raises awareness and funds on ways to give back into our community. This year's focus is on mental health as part of the #JoinTheResilience campaign.

#JoinTheResilience was launched early this fall as and has introduced or supported care packages, peer support, free counselling, spiritual mentoring, and more. It's a dedicated effort to address and support mental health at King's.

"We want to create a community-based approach to mental health and wellness," said Vice President of Student Life and Dean of Students Mike Ferber. "We want King's to be a distinctive example of how to create a health and wellness culture that's distinctive and transformative for our students."

To help this transformative effort, all funds from the 2018 Giving Tuesday will directly benefit student mental health at King's!

The campaign page lists how your donation can affect the life of a student—your friends, son, daughter, niece, nephew. However you know them, these resources, whether a session with a counsellor or enjoying an event, contribute to a robust community and culture.

This year we have three matching donors--all registered psychologists from King's! Amanda Chikowsky, (BA'09), Jenny McAlister, (BA'02), and Michael Stolte, (BA'95), are generously making your gift grow. For every share of the campaign page on Facebook and Twitter, $10 is given to the campaign. For every 10 unique donors, the campaign receives $150!

Share this link with your friends and family to help us create the most good this Giving Tuesday.