Back to Blog
Celebrating another record breaking graduating class
May 10, 2017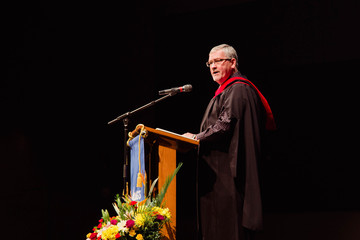 Congratulations to our 163 newest alumni!
The King's University Class of 2017 was the largest graduating class in King's history. The April 29 ceremony at Mill Woods Assembly comfortably housed a large crowd of friends and families, and for the first time, King's was able to offer a video live stream of the ceremony for those who were unable to attend.
The featured speaker for the event was the Rev. Roy Berkenbosch, who is officially retiring from The King's University this year. President Dr Melanie Humphreys also addressed graduates, encouraging them to be "world-changers." 
Note for alumni who have requested a copy of the live streamed program: King's is waiting for the church to release the video, which will be shared on this website and social media.
Next year's graduation convocation ceremony will also be held at Mill Woods Assembly.