Back to Blog
Helping to Share the Stories of Newcomers
May 03, 2016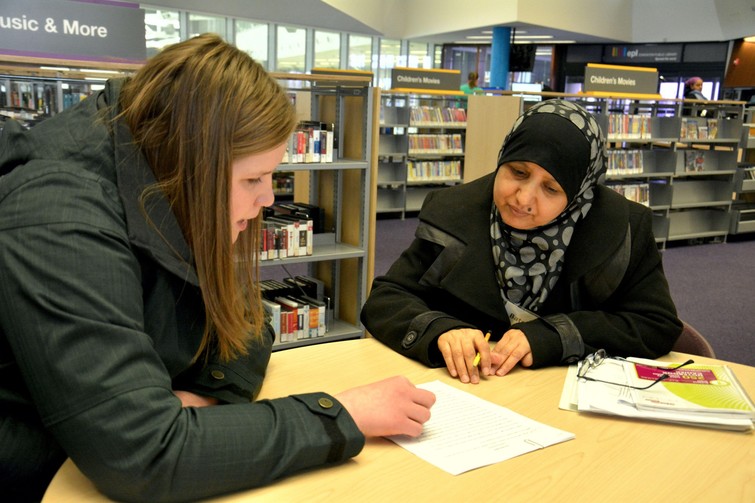 Students and faculty of The King's University were privileged to work with ESL (English as a Second Language) students on a very special type of book project recently.
King's students Rynnelle Wiebe, Ashley MacDonald, and Cameron Edney and Professors Bob Bruinsma and Arlette Zinck, were among a number of volunteers who helped recent newcomers from war torn countries share personal experiences of living with war and coming to Canada.
The idea for the book project was born when powerful accounts of war were shared by students in their ESL class sponsored by Dickinsfield Amity House and held in the Londonderry and Clareview Libraries. It was apparent that the stories, recalled in stirring but faltering English, needed to be publicly shared.  The idea of tutoring ESL students, helping them to write and publish their stories, was born.
"History records decisions made by powerful international leaders, where to send armies and where to drop bombs," adds ESL Teacher Louisa Bruinsma,  "If there is one recurring theme in these accounts, it is in the sigh of relief from each of the students that they could come to Canada, a place where they feel safe.  Perhaps we honour their courage the most by working for a future where all humanity can live together in peace.  And war will be no more."
The book, entitled "And War Shall Be No More" will be released on Thursday, May 12 at Glengarry Hall, 13325 – 89 ST at a book launch from 6:00 – 8:00 PM.