Back to Blog
King's announces "Glorious and Free?" conference Jan. 18-19
Jan 16, 2017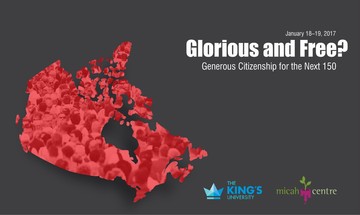 The King's University is launching its winter academic semester with a two-day conference inspired by the upcoming 150th anniversary of Canadian confederation in July 2017. "Glorious and Free? Generous Citizenship for the Next 150" takes place Jan. 18-19 and features speakers who will investigate society's assumptions about citizenship and what it means to "belong" in Canada. 
"As we listen to the stories of others and deepen our understanding of issues related to refugees, immigrants, and 'Canadian' values in a pluralistic society, our goal is to help participants think about how to cultivate a generous citizenship," says Rebecca Warren, IS conference director.
For two days, speakers with expertise in philosophy, social ethics, religion, and journalism will offer their thoughts about the refugee experience, religion and liberal democracy, political advocacy, and the history of immigration in Canada through plenary talks and breakout sessions.
"We want to talk about how we understand citizenship and belonging in a pluralistic society," Warren says. "And as a Christian University, we also want to take a look at how our role as citizens of the state relates to what we believe."
A special performance of the hit Fringe play Anatolia Speaks, about a Canadian woman who struggles to come to terms with her dark past in Bosnia, will take place 7 p.m. Wednesday, Jan. 18. Tickets are available for $10 online or at The King's University Bookstore. After the play, join writer/director Kenneth Brown and actor Candice Fiorentino for conversation.
The conference begins with registration and refreshments in the gymnasium breezeway at The King's University, 9125 50 St. in Edmonton, and sessions last from 9 a.m. through 3 p.m. each day. See the full conference schedule online.
The Interdisciplinary Studies Conference is a unique part of The King's University's academic curriculum. As a featured two-day course each semester, the conference is a practical way for students to see where academic disciplines intersect and overlap. Students attend workshops and breakout sessions then write reflective essays. Speakers have challenged the King's community to think critically about issues such as the Alberta oil sands, homelessness, and local and sustainable food production.
The King's University is a Christian university that strives to build a more humane, just, and sustainable world, inspiring and equipping learners to bring renewal and reconciliation to all of life. For the full conference schedule, visit 
Featured speakers 
William Cavanaugh, Professor of Catholic Studies and Director of the Center for World Catholicism at DePaul University
Ronald A. Kuipers, Director of the Centre for Philosophy, Religion, and Social Ethics at the Institute for Christian Studies
Jennifer McIntyre, Director of Romero House in Toronto
Maran Nagarasa, noted journalist and human rights activist, who will share his story as one of the Tamil asylum seekers who came to Canada by boat in 2009.
Learn more about The King's University at kingsu.ca.