Back to Blog
King's badminton player bound for national championships
Feb 22, 2019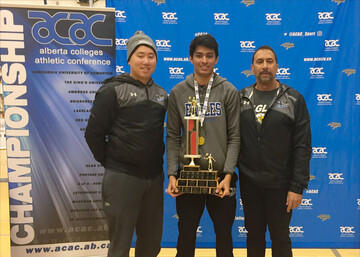 From the very first tournament of the season, Eagles Badminton player Narayan Ramdhani has dominated his competition. Going undefeated for the first two ACAC tournaments this season, Ramdhani finished with an 11-1 record in men's singles.
At the provincial championship held at Concordia University of Edmonton on February 16-17, Ramdhani came out of a well fought battle ranking second nationally. The win at provincials will see Ramdhani travel to the CCAA national championship at Dalhousie Agricultural Campus in Truro, NS from March 6-9.
"Narayan is a tall, fast, smart player. I'm very proud of what he's accomplished," says Head Coach Naeem Haque.
Narayan was awarded the ACAC All-Conference Award and was named Eagles Athlete of the Week following his win at provincials.
You can follow all the CCAA National Championship action online.