Back to Blog
King's Name Change Approved by Legislative Assembly
Dec 09, 2015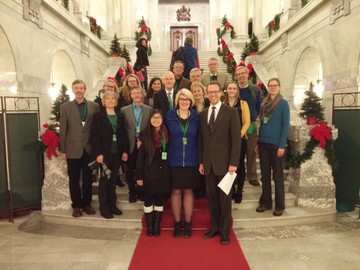 Tonight the Legislative Assembly of Alberta passed Bill Pr1, The King's University College Amendment Act on 3rd reading, sending the bill to the Lieutenant Governor for Royal Assent.
The Bill, championed by Edmonton-Gold Bar MLA Marlin Schmidt, marks a significant milestone in the life of the 36-year-old independent university, which was first given the right to grant accredited degrees in 1987.
The official name change of The King's University comes after a lengthy process that began in July 2014 when then - Premier and Minister of Innovation and Advanced Education, Dave Hancock granted permission for the institution to change its name from "university college" to "university."  At the time he said in a memo to all five independent academic institutions in Alberta, who were also given the same permission, "The change in name is intended to support the valuable contributions of these institutions to Campus Alberta and its learners."
King's immediately registered "The King's University" as a legal trade name and has been using it since, but still required an Act of the Alberta legislature to make the name change official.  The Private Bill to make the change was first presented to the legislature on November 27.
"We are thankful that the Legislative Assembly has passed this new Act and changed our name," says King's Board of Governors Chair Bill Diepeveen.  "As I said when this process began, it recognizes us for what we are, a full-fledged university with all that entails.   King's has grown by more than 80 students since July 2014 when the name change process first began, and we continue to have among the highest student satisfaction marks in Canada, in independent surveys."

About The King's University
Now celebrating its 36th year, The King's University has been recognized as Most Supportive Campus Environment of any Canadian institution, as measured by independent surveys of students, and often ranks in the top ten per cent of all colleges and universities in North America.  Founded in 1979, King's offers fully accredited Bachelor degrees in the Arts, Humanities, Music, Social Sciences, Natural Sciences and an Education after degree. It is also home to the Leder School of Business offering Bachelor of Commerce degrees.  King's serves more than 785 students from across Canada and abroad, representing dozens of nations. Faculty members are highly qualified, committed to academic excellence and communicate a Christian perspective in their teaching and research. Students are challenged – both inside and outside the classroom – to apply what they learn to their lives and future careers.