Back to Blog
King's professor awarded prestigious 3M National Teaching Fellowship
Feb 02, 2018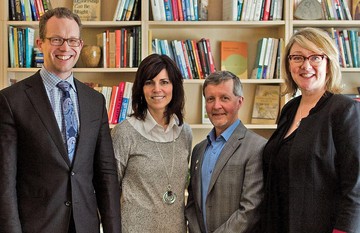 Dr. Arlette Zinck, Associate Professor of English Literature and Dean of Arts at The King's University in Edmonton, was selected to receive the 3M National Teaching Fellowship for 2018. The 3M award, in partnership with the Society for Teaching and Learning and Higher Education (STLHE), recognizes Canadian teachers who show exemplary education leadership and teaching in universities and colleges and is Canada's most esteemed post-secondary teaching award. Each year, the fellowships are given to no more than 10 professors.

Zinck's fellowship comes just a decade after King's first 3M Fellowship was awarded in 2008 to Professor of Chemistry Peter Mahaffy. This national recognition places The King's University in an elite group of post-secondary institutions with an exceptional ratio of 3M teachers among its 50 faculty members.

"I am deeply honoured by this award," said Zinck. "I love being in the classroom with students, reading and sharing thoughtful stories about ourselves and our world. The 3M Fellowship is a wonderful affirmation of this work." Zinck's classroom teaching is marked by a genuine love for the discipline and a real desire to connect personally with students.

The 3M award recognizes the impact of Zinck's work with students both on and off the university campus. In addition to teaching at King's, Zinck leads a team of faculty from King's and other institutions to offer post-secondary studies and distance learning to inmates at The Edmonton Institution and to adult learners in other Correctional Service of Canada institutions. She founded and leads the Post-Secondary Prison Education Foundation, which is in the process of becoming a recognized non-profit.

Zinck's work with learners in prison has helped shape public dialogue about fostering hope through teaching to move learning beyond classroom walls and into the community, Canada, and internationally.

"Dr. Arlette Zinck is a force," said Dr. Melanie Humphreys, President of The King's University. "She is articulate, passionate, deeply deserving of this award, and we're excited to see her leadership recognized. The 3M Fellowship, sharing and connecting interdisciplinary knowledge to support the experience of each learner, embodies what King's is all about."

Zinck's teaching philosophy is rooted in the power of story to direct students' sense of empathy from thinking into action. "My teaching practice is all about storytelling. Storytelling is integral to understanding who we are," Zinck explained. "It connects us to others who are both like and unlike us. Stories can generate empathy and hope, both in the classroom and in society at large.  They allow us to re-imagine ourselves and our world in ways that are life-giving and full of possibility."

Professor Zinck embodies the approach to transformative learning across disciplines that is an important feature of The King's University's learning community, said King's nominator and 3M Fellow Peter Mahaffy. "In a time of multiple emerging global challenges and sometimes myopic international leadership, Arlette inspires all teachers and students to shape stories that 'make us more alive, more human, more courageous, more loving'," said Mahaffy, quoting Madeleine L'Engle.