Back to Blog
King's students participate in Edmonton City Hall racism awareness event
Mar 21, 2017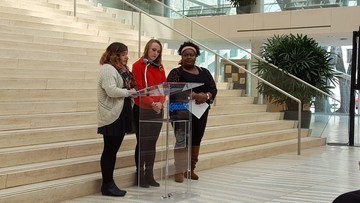 Students from The King's University sociology department participated in a noon event at Edmonton City Hall on Tuesday, March 21, 2017, to commemorate the International Day for the Elimination of Racial Discrimination. The event is sponsored by the Edmonton Interfaith Centre for Education and Action and occurs annually in Edmonton and around the world.
The students are from SOCIOLOGY 360: "Social Inequality in a Global Age" and are instructed by Professor Randolph Haluza-DeLay. "Racism is one of the most significant forms of social inequality, and events around the world are organized on this day to raise awareness and insist we take action," says Dr. Haluza-DeLay.
"The theme the students developed is 'Active Steps towards Eliminating Racial Discrimination,'" he said. The event featured music, prayers, greetings from dignitaries, and reflections from several of the students.
March 21 is the international commemoration of an event in South Africa in 1960, when 69 peaceful demonstrators against the racial apartheid system were killed by police. The annual observance was proclaimed by the United Nations in 1966 and observed since. It has been proclaimed in Edmonton for over two decades. 
This is at least the fourth time The King's University students have participated in the noontime City Hall commemoration. The King's University was invited to participate by the Edmonton Interfaith Centre for Education and Action, which organizes the annual event. The centre includes members from more than 14 faiths and provides education programmes to help Edmonton community members appreciate the city's rich religious diversity and develop understanding among all citizens. 
Dr. Haluza-DeLay has conducted research on racism and was one of two academic consultants on a City of Edmonton-sponsored survey of citizens called "Experiences and Perceptions of Discrimination in Edmonton" in 2012. Dr. Haluza-DeLay and colleague Dr. Harvey Krahn of the University of Alberta have been asked by the City of Edmonton to redo and update the study in 2017.