Back to Blog
King's students swamp competition at geography conference
Mar 13, 2018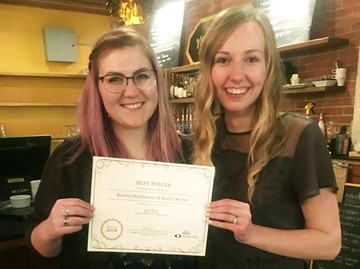 The King's University Environmental Studies students won first place at a geography conference March 9 and 10, competing against 40 other presentations across Canada and the United States.

The 2018 Western Division of the Canadian Association of Geographers (WDCAG) hosted eight provinces, territories, and states representing western divisions of Canada and the United States hosted in Edmonton at the University of Alberta. Each year, the WDCAG requests presentations, special sessions, and posters on all fields of geographic research from post-secondary students and is a well-attended, well-regarded conference.

Kendra Hutchison (fourth-year, BA) and Kailyn Wiebe (fourth-year, BSc.) presented a research poster examining the Alberta Wetland Policy titled "Saving the Swamp," using a case study of the Syncrude Sandhill Fen, a reclaimed wetland. Their in-depth research was recognized when they won Best Undergraduate Poster. 

"We were really excited to engage with students and professors about the strengths and weaknesses of wetland reclamation in Alberta, and to be recognized for all the work we put into this research," said Hutchison.

A total of 13 King's Environmental Studies students submitted and presented posters and papers at the conference, while several other King's students offered their time as volunteers. A King's alumna, Julie Paquette (BSc.,'02) now in the master's planning program at the University of Alberta, also presented.

This latest win marks four years out of the last six at the conference where King's students have won the undergraduate poster competition. Dr. Harry Spaling, Professor of Geography and Environmental Studies, noted about King's student-researchers: "We are now the annual challenge!"

Wiebe remarked that she was happy both to represent King's at the conference and to bring attention to Alberta's reclamation challenges.

King's and the University of Alberta co-hosted the WDCAG conference with King's faculty Joanne Moyer, Assistant Professor of Environmental Studies and Geography, and Spaling as co-organizers.

Learn more about Environmental Studies at King's.