Back to Blog
King's Harvest Banquet blesses students & community
Oct 05, 2017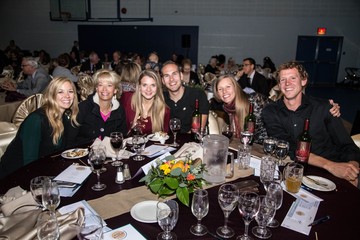 Almost a week has passed since The King's Harvest Banquet, and we wanted to say a heartfelt thank you for those who attended!

Donors helped raise over $26,000 to support student scholarships and bursaries.
A total of 338 people flocked to the banquet on September 30 for a night of music, dining, and fellowship. Attendees enjoyed friendly competition for the treasures in our silent auction and were delighted with the musical talents of our students and faculty.
A few listeners had to dry their eyes hearing alumnus Jeremiah Basuric (BA '13) share how his King's experience gifted him with community, confidence, and compassion. As Jeremiah ventures into his career, he reflected on how King's unique worldview of shalom and reconciliation is not just a mantra but is ever relevant in today's world.
Juanita Henschel (BA '96, BEd '98) spoke about how now, nearly 20 years after graduating from King's, she still feels strongly about what King's has done for her life. She received scholarships and bursaries as a student and knows the difference it made. Not only did it provide relief from the financial pressures so many university students experience, but it was also a tangible reminder of the community of people who were supporting and investing in her because they believed a Christ-centered education influences a person for life and helps change the world.
Donors, sponsors, and auction supporters helped generate more financial support for students who are walking this path.
Did you miss the event? Watch for details on next year's event. We have exciting plans underway. You won't want to miss it!