Back to Blog
Upcoming IS conference examines the role of the Church in society
Sep 01, 2017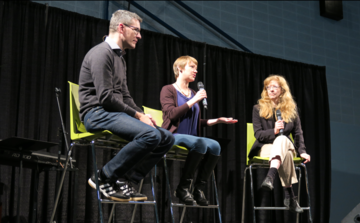 It might seem surprising for a Christian university to pose the question, "Does the church matter?" but that's the topic up for discussion at The King's University's public Interdisciplinary Studies (IS) Conference September 20 and 21.

With growing chasms in the politics of left and right, fundamental disagreements over how to interpret scripture, and uncertainty about the relevance of religious faith for the problems of today's world, many young people wonder, does the church matter?

"It's important for us to ask, as a community, the questions that students are asking about the role of faith in contemporary life," said IS Conference director, Rebecca Warren. "The overall goal of the conference is to help students – and others – make connections to the past, interrogate the present, and dream about ways we can shape the future."

The semi-annual Interdisciplinary Studies Conference, a two-day all-campus event that is free and open to the public, will focus on the relevance of the church and the divisions within it. The conference is titled "Does the Church Matter? Navigating Divisions 1517–2017." Five hundred years after the Reformation shook the Western world with questions about the relationship between religious identity and political power, and we are still asking similar questions today: How should people of different beliefs should relate in a multicultural society? Where do we look for answers to key life questions in the absence of a unified religious narrative?

Topics include the challenges of navigating a hyperpluralistic world, the things in the church that might need reforming, and the role young adults have in shaping the future of our common life. The second day of the conference will step back in history and ask "how did we get here?" by exploring the legacy that began 500 years ago with the Protestant Reformation in 1517.

Keynote speakers include the Rt. Rev. Jane Alexander, Bishop of the Anglican Diocese of Edmonton; Dr. Richard Mouw, President Emeritus of the Fuller Theological Seminary; and Dr. Brad Gregory, Dorothy G. Griffin Professor of Early Modern European History at the University of Notre Dame.
Conference information
The conference runs Wednesday, September 20, and Thursday, September 21, from 9 a.m. to 3 p.m. each day (beginning in the gym), with breakout sessions from 10:45 to 11:45 a.m. A more detailed schedule will be available online and at the welcome table. Dr. Richard Mouw will present a public lecture on the topic: "Reformations Keep Happening: 21st Century Challenges and Opportunities" on September 20 at 7 p.m. in room N102.

The King's University is grateful for those who have helped plan this event, including Julien Hammond, Ecumenical Officer of the Catholic Archdiocese of Edmonton, and Faith Nostbakken, Northern Ecumenical Officer of the Evangelical Lutheran Church in Canada Synod of Alberta and the Territories. 

Go to the IS Conference's page for more information and the schedule of events.