Back to Blog
5 King's U student stories of 2017
Dec 18, 2017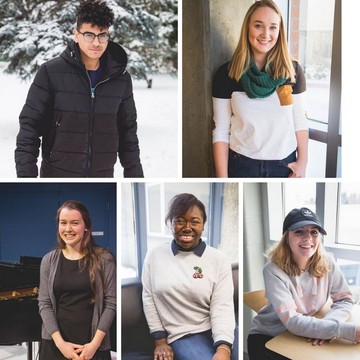 The King's U Stories Instagram account, new this fall, has been an incredible way to share our students' journeys, challenges, and hopes. Haven't read them yet? Here are five hand-picked stories from our student body out of the 15—and growing—features!
"I really like kids. Both my parents are teachers, so I've seen how the teaching career goes, and it really seems awesome. I love speaking into kids' lives. I teach swimming lessons, and that's already given me a taste of what it may be like to be a school teacher one day.

"One thing I've learned at university is to put yourself out there. You may think that people will judge you, but that's so not true. No one is going to shut you down here."
-Jaden Bouwers is a third-year BA in biology student, who hopes to pursue King's Education After-Degree. Jaden is from Sherwood Park, Alberta.
"I thought it would take me a lot longer to adapt. But everyone is so welcoming here, which makes it a lot easier to be here than I thought. It's been easy making friends too, which is awesome. I've made more friends in the past two months than I have in the last five years.

"I've also never seen snow in my life, so I'm really excited for winter. I know that people here aren't typically excited for winter, but I'd say it's the one main thing I'm stoked for. Before today, the coldest temperature I experienced at home was 8 degrees."
-Adam Mahgoub is a first-year BA in English from Alexandria, Egypt.
"My professor Leanne Willson has been the one who has inspired me so much. She is so passionate about psychology.

"I love how psychology opens up different channels for you to get to know and understand others and yourself better. It gives you an in on how the mind works. Society locks us up in its ideals and expectations; however, on a psychology level, we're all pretty much the same."
- Rita Onun is a Psychology student, on King's dance team, and is obsessed with reading (she's read 100 books in 2017!). Rita is from Grande Prairie, Alberta.
"I've always liked helping people. I had to find a way to mix my future goals with my family history, which is the military. My dad introduced me to the medical side of the military, and I was sold.

"I eventually want to be a cardiovascular pediatric surgeon without borders. I see the military as the in-between service for me. It's a way I can serve my country as well as practice something that I love."
-Olivia Clark is a first-year biology student from Calgary, Alberta.
"I've always been involved in music. When you're in an ensemble or choir, you definitely feel a sense of community there. You're making something out of nothing together.

"Music is powerful because it creates emotion in the people who are listening and experiencing it. Through music, I'm getting to know myself better and what makes me tick. I think it's so amazing that I can communicate experiences, relate to people, and share with them through song. Music is a language all on its own, a language that I'm just learning how to speak."
-Kerry McCune is a second-year Bachelor of Music student from Edmonton, Alberta.


Want to share your story? Submissions are open to current students, faculty, staff, and local (Edmonton) alumni. Fill out the contact form and get in touch!