Back to Blog
Lady Flower Gardens: Dancing with diversity
Apr 17, 2018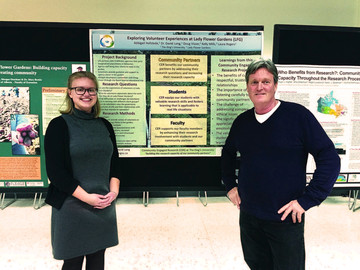 Lady Flower Gardens' dance with the King's Community Engaged Research (CER) team began when student Abbigail Hofstede got to know Doug Visser while both were on a Micah Centre learning tour to Quest Mexico. Hofstede offered to do research for the gardens, a fertile oasis in northeast Edmonton where Visser and partner Kelly Mills invite community agencies to bring their clients to plant, weed, harvest, and heal. "I was looking for a project for a research methods class, and I wanted to do something meaningful," Hofstede recalls.

Visser was pleased to work with his new young friend and, with some fear that King's faith-based team might not mesh with her secular perspective, Mills identified a question she wanted answered: How do users feel about the way Lady Flower Gardens is run?

Supported by CER Director Dr.David Long and Coordinator Laura Rogers, Hofstede designed and administered a questionnaire and also interviewed five individuals who regularly travel in a Mustard Seed van to volunteer at the gardens. Besides writing a report analyzing those questionnaires and conversations, Hofstede presented findings to the agency and led a poster session at a research event hosted by the University of Alberta Faculty of Extension, holding her own amid the graduate students and hors d'oeuvres. 

"I'm really interested in working with not-for-profit organizations, so it was valuable to get an in-depth look at how one local not-for-profit works," Hofstede says. "You learn skills you can't learn in a classroom, and it's way more rewarding to dive in and do something so applicable to a real-life, real-world situation."

Pleased with the work, Mills welcomed Hofstede as a Micah Centre intern the following summer. Helping to orient and coordinate garden volunteers, Hofstede experienced one of the realities her interviewees spoke about often: the delicate balance between too many and not enough rules in a healing place that attracts people with diverse realities, struggles, gifts, and talents. "It's something I learned in theory when I did the report, and actually dealt with as an intern," she says.

Meanwhile, Hofstede's research is informing next steps for how the garden runs. "The paper reminded me how important it is to be inclusive and collaborative rather than top-down," Mills says. "The ethics for a more grassroots democratic process has always been here, but it is a slower process. Sometimes decisions have to be made without consultation in the growing season because of time constraints. Abbigail's research reinforced the importance of taking the time during the off-season to set up well-facilitated group meetings and one-on-one interviews that really do get authentic input from our member agencies' representatives, which truly guides the direction of the garden."

The experience had added significance. Mills says, "The mutual respect that Abbigail and I developed, collaborating as a secular person and a faithful person, gives me a great deal of hope that Lady Flower Gardens will become a place where people from all backgrounds can come together for the greater good of nature and ourselves."