Back to Blog
Men's Volleyball Ranked Fourth in ACAC North
Feb 21, 2019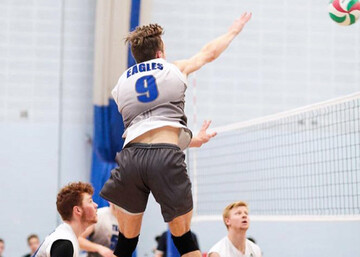 After a tumultuous start to the season, The King's University Eagles men's volleyball team has clinched a playoff spot.
The team went 8-2 in their last ten fast paced, action-packed games of the season. They have won the last six in a row and their latest streak has put them in fourth place in the ACAC North division.
With impressive stats like this behind them, the men confidently enter the provincial championship, hosted by NAIT from February 21-23. If they finish in the top two here, they will be off to the CCAA national championship held at Red Deer College from March 6-9.
"Our second semester shows that the players have the grit and mental strength to be successful in the ACAC, despite our young average age. Swapping our record from 3-9 in the first semester to 9-3 in the second semester, and finishing with six straight crucial wins proves that we are not going to sit back and be okay with mediocrity. We are here to compete," says Assistant Coach Cole Vriend.
Find out when you can catch them in action or live stream the games.