Back to Blog
Message From The Graduates - Ms. Ryleigh Jacobs
Apr 30, 2016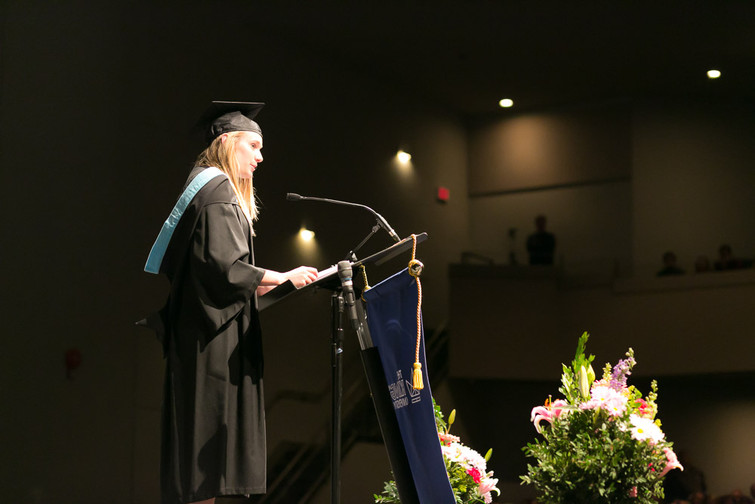 Good Afternoon. Sawubona. Goie Middag.
Family, friends, staff and faculty, to those present with us here today and to those that could not be here, thank you for your care and support that has brought us all to this day!
A big shout out to my incredible parents that are visiting from South Africa, I am proud to be your daughter.
Fellow graduates, my friends, as I stand here before you, I see a room full of beautifully diverse people – One thing that seems overwhelming to comprehend is that each of our stories have converged to this moment - to celebrate our shared King's experience for one last time. 
I am honoured to be a speaking here today; a representative of our community.  A community that has been an incredible blessing to me, and given me a whole degree's worth of memories.
Since I have come to Canada, I have been shown love and grace by this community.  The Haswell family and the Colter family opened their homes to me.  Leah and Darcy Visscher have embraced me as a part of their family (although I am soon to be replaced by some baby.) Many people here have opened their hearts and enabled me to belong.
But, I recognize that in order to truly represent us, the graduating class of 2016, my story alone cannot do justice to our King's experience.
Over the past few weeks I have had the privilege to listen to some of your King's experiences. Some of which made me tear up, others that made me giggle, but all of which made me so proud to be a King's student.
What I discovered as I listened to each story and what seems profoundly obvious, and at times cliché,but nevertheless, very true, is that King's is embodied by community.
The word "community" and the "people of King's" came up again and again when I asked you, "What will you miss the most about King's?"  Well, to be honest, all except one said the community. The other person said "the free food".
No judgment. We are all college students here and totally get it.
- - -  
In South Africa, we have a word: "Ubuntu."
Unfortunately, an English translation does not give justice to the essence of 'ubuntu'!
One definition of 'ubuntu' translates it to mean: "I am only a person through other peoples."
A second translation defines 'ubuntu' to mean: "I am because you are."
While these two definitions appear to mirror each other, the latter broadens the scope of what it means to be human. Our humanity is not only defined by our relationships with people, but our relationship with God and the whole of creation too.
I have experienced 'ubuntu' within this King's community, and in hearing your stories it is clear that many of you have too.
I fondly recall one of you telling me a story about the class revolution you had planned in Dr. Mark Sandle's class because of his unreasonable paper assignment. You forced him to wear a moustache to look more like the dictator he was turning out to be and the object of the class's study – Stalin!
I was moved as one of you told me about the belonging that you have felt at King's through the relationships with peers, staff and our beloved president Dr. Melanie Humphreys. 
One graduate elaborated on the passing of our dear Jonathan two years ago, a member of our community who would have been here in a robe and black top hat today.
They said "It is during these dark times that we have been able to be hope to each other; to be each other's strength and the support.
I was in my second year at King's and we were all gathered in the drama room to pray.  We came together as friends and family of Jonathan, even if we had never met him, because we are friends and family of King's. It was in that moment that I understood what community meant. It was in that moment that I knew God was present in this community."
You told me stories of grief and stories of joy…
Ubuntu: your pain is my pain; your joy is my joy.
- - - - - - - - - -
Many of you commented on the growth and transformation that you have experienced at King's. Our education has challenged and stretched us.
We've had good days and bad but, it has also cultivated the passions present within our hearts and Christ has been revealed to us in this community.
King's has been a place that is hospitable to questions about our faith and identity.
Our chosen scripture, Isaiah 40:31, reminds us that we will soar like eagles on the wings of faith, our wings are our community in which God makes Himself known.
- - - - - - - - - -
At the start of the year at convocation,
Dr. Margie Patrick challenged us to live in the gap, or as Frederick Buechner puts it: the place where your deep gladness and the world's deep hunger meet.
Parker Palmer, an author, educator and activist, reminds us that in order to live in the gap we need to be bold in who we are, listening to our inner voice that reminds us of who we have been called to because just as much as we need our community to thrive, our community needs us to share our own unique gifts. There is no need to wear the faces of the world as it would be an injustice to both ourselves and our communities.
Ubuntu.
- - - - - - - - - -
You know, as I was writing this speech, I often felt unsure of what I had to offer. I remembered listening to Arlette Zinck speak at chapel, and I thought about the many ways that I could sound as eloquent and insightful as her; by using big words that I didn't understand. But, the only big words I could think of were "pho-to-syn-the-sis" and "ca-li-rometry."
However, upon hearing your stories, I quickly realised that I could be myself and speak from my heart because I am surrounded by a community here today that wouldn't want it any other way.
Only you can hear that inner voice of your life's vocation, but a community can help you recognise and develop your passions, encourage your talents, and be honest about your limits.
And a healthy community trusts in you to offer the gifts that you were put on earth to give others, so that together, we may bring abundance and flourishing, renewal and reconciliation to all of creation. 
Ubuntu.
- - - - - - - - - -
While today might be the last day that our paths cross, it is not the last day that we will feel this King's community.
One of the graduates shared this quote by Fredrick Buechner with me at the start of our King's Journey. He says: "You can kiss your family and friends good-bye and put miles between you, but at the same time you carry them with you in your heart, your mind, your stomach, because you do not just live in a world but a world lives in you."
So think for a little bit about this King's world.  What are your King's moments? Maybe it's surprise parties, classroom revolutions, or being on the first King's athletics team to make it to Nationals!
Perhaps it's reluctantly receiving a bowl cut in first year, and rocking it. Maybe it is the late night Denny's study dates with friends, or forcing your roommates to partake in a "Little House on the Prairie" marathon.  Maybe it is serving in many ways such as the Honduras Water Project or going to sports games just to hear Ollie's war cry or playing cups and beating the great Reverend Master Tim Wood.
We all have had our King's moments, and the harder question now becomes - how do we bring our King's moments to the world?
I don't have the answer for you.  But, I do pray that you go forth with courage and conviction, knowing that the world of King's, a seed of community, is planted within you, waiting to be cultivated and brought to fruition.
Remember who you are, where you have come from, and the love of the community that has journeyed with you.
I pray that all of us will go forward living out the grace that we have found in this place – a King's community that has found its home within our heart…which always, at its best, is simply a glimpse of God's Kingdom.