Back to Blog
Eagles welcome new head coach for women's soccer
Jan 11, 2018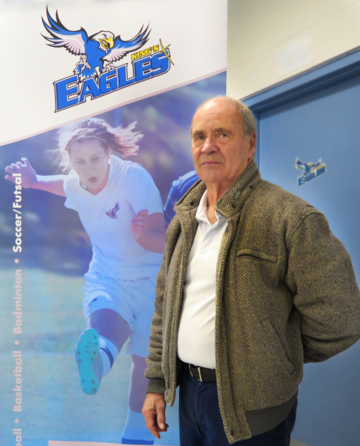 The King's University Eagles soccer program is pleased to announce Rick Haxby as the new head coach for the women's soccer and futsal teams.

Rick comes to the Eagles with 14 years of professional soccer playing experience and over 40 years of coaching experience. He holds a provincial coach position with the Alberta Soccer Association and is head coach of the Victoria Women's Soccer Club which is part of the Alberta Major Soccer League, positions he will retain while coaching at King's since the seasons work on alternate schedules. Rick is no stranger to King's—he was head coach in 1984 and his son played on the Eagles soccer team this season.

Athletics Director Grace Scott is excited to have a women's soccer coach of Rick's caliber at King's: "Rick has a great deal of experience and a coaching philosophy that fits well with our university's goals of developing players who take academics seriously and strive to put their team first," she said.

Rick explained that his coaching focus is on teaching players how to play the game of soccer, encompassing both the physical and mental aspects. Character and heart are vital parts of the game. "Teach first, play second," Rick emphasized.

Rick officially starts April 1, but he already has begun recruiting and getting to know returning players.  He will take over full duties in late summer this year.