Back to Blog
KCVS plays major role in global launch of new IUPAC periodic table - soon to be used worldwide
Aug 17, 2016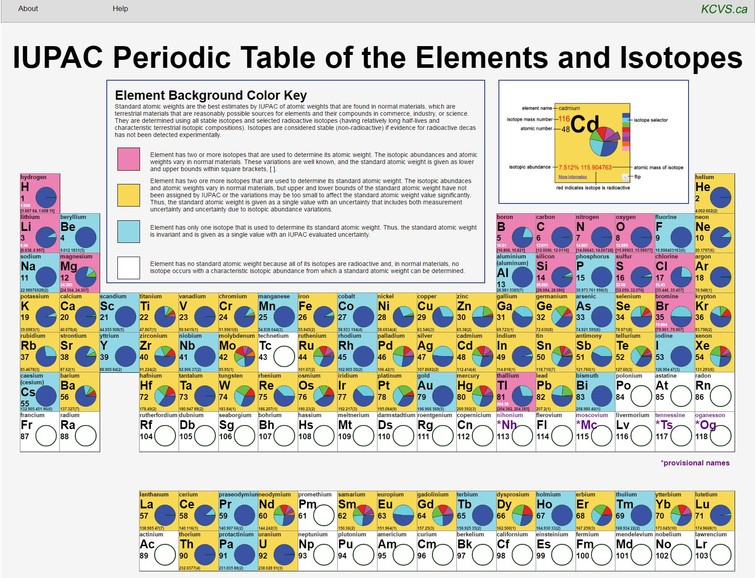 How do we know what the temperature of our planet a million years ago? Where did Őtzi the Iceman live as a child and an adult? What evidence gives doping agencies the gold standard to determine whether testosterone in an athlete's sample comes from doping? How do we obtain 3D images of tumours in soft tissues?
The answers to all of these questions and many more can be revealed through a deeper understanding of isotopes. Isotopes Matter!
The new IUPAC interactive electronic periodic table, Isotopes Matter, and accompanying educational materials were created through a partnership between an IUPAC Project team of scientists and educators, and researchers at The King's Centre for Visualization in Science. The project built upon the work of a previous IUPAC project team to create a print version of the Periodic Table of the Isotopes.
"This project responds to requests by educators and students for resources highlighting the importance of isotopes in our lives, and that give students help in using interval atomic weights for elements. Isotopes Matter brings free engaging and interactive learning resources to the fingertips of students and educators around the world," says Task Group Co-Chair Peter Mahaffy, Professor of Chemistry at the King's University in Canada, and co-director of the King's Centre for Visualization in Science.
Following its global launch on August 17, 2016, the new IUPAC interactive electronic periodic table and accompanying resources can be accessed at www.isotopesmatter.com. A print version of the periodic table of the isotopes and elements are available here. Further details will be published in the peer-reviewed IUPAC Journal, Pure and Applied Chemistry.