Back to Blog
Practicing Neighbourliness
Mar 31, 2017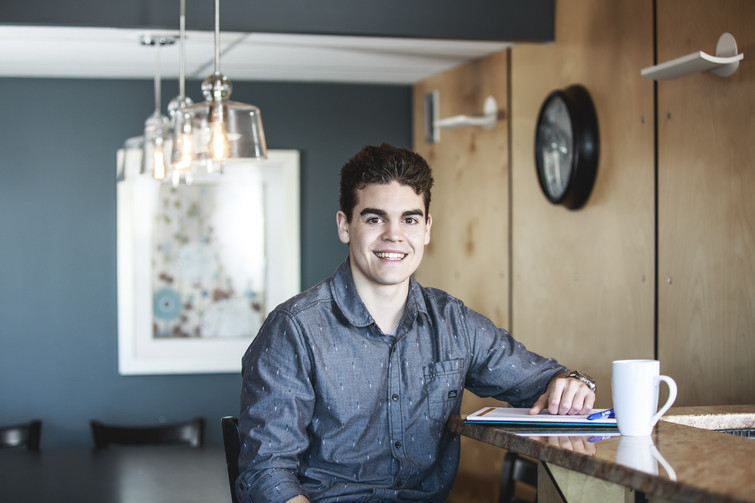 Students who come to the King's University intending to prepare for life by attending classes may be surprised to discover that simply living on campus offers an education of its own. An education in being neighbourly. King's alumna Alison Exner discovered as much several years ago as a student; now, as residence life coordinator, she is living on campus again—this time supporting others as they learn.
Exner compares the first year in residence, when most students share two-person rooms in the central tower, to living with an entire floor of new family members. From the day they arrive on campus, students are drawn into activities that, while often featuring fun and food, share the serious intent of turning strangers into kin who encourage each other in their common aim of learning. "It's amazing how they support each other," Exner says.
In subsequent years, resident students typically move into suites in the tower and finally into apartments across the street, living in more intimate "families" of six while learning to be good neighbours with the people down the hall. The hospitality they practice shapes their interactions with neighbours for years to come: Will I invite people over for a meal? Shovel someone's walk? Help a neighbour in distress? "So many students do those things naturally here because they're in community," Exner says.
While a student at King's, Exner worked as a resident assistant and knew in her gut that students fare better when engaged in community. Now, through graduate studies at Geneva College, she is gleaning evidence to back that up. Students who participate in community (including those in clubs and campus jobs) are statistically more likely to complete their homework and learn more in class. Those who step into leadership roles not only build impressive resumes and have the satisfaction of mentoring others, but learn more deeply themselves. That includes the residence assistants on each floor who serve as Exner's frontline of care.
Like other residence assistants, second-year student Josh Ayer lives on the floor he's responsible for, close at hand when students want to bend his ear. He takes time to go for coffee and forge bonds with his charges, so that when needs arise or trouble brews they come to him. In addition, he's responsible to plan events for the floor and for "601," the lounge on the sixth floor of the tower. Also a campus security guard, Josh says his campus jobs are making it affordable for him to stay at King's—but that he'd want to foster community (or as he terms it, peaceful unity) even if he weren't paid. "We're not just a bunch of random people here. We all have unique things that make us who we are, but we can all come together and make this an extraordinary experience."
"Our work really does support student academic learning," Exner says. "And King's is not here just to pump out graduates. We're about students being the best they can—about deep learning."
This article first appeared in the Spring 2017 issue of Connection Magazine. Read the entire issue here.