Back to Blog
Professor Gerda Kits wins King's award for teaching excellence
Apr 19, 2018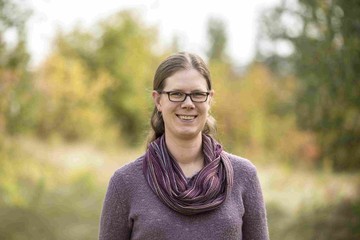 Long-lasting applause burst from faculty and staff as Dr. Gerda Kits threaded her way through tables to receive her award during King's academic year-end luncheon.

Kits, Assistant Professor of Economics, was the winner of the 2017-18 Award for Early Achievement in Teaching Excellence, celebrating her dedicated efforts with students. The award is given to faculty members who have seven years or less of post-secondary teaching experience. Her selection came from a list of eight candidates and was decided by the Faculty Senate Evaluation Committee.

"I'm so thankful to be at an institution that values good teaching and gives me the freedom to take risks and try new things," Kits said. "I've been tremendously blessed by the support I've received from colleagues and students throughout my first few years at King's."

Dr. Hank Bestman, Vice President Academic and Research, introduced the award by reading some of the comments put forward by students supporting the nomination. The comments were glowing.
"I can think of no other professor who would be better suited for this award as this person exemplifies everything I believe King's stands for."

"Overall, I cannot recommend this professor highly enough. This professor has materially shaped my learning at King's for the better and it has been a privilege to study with such an excellent and inspiring person."

"Perhaps what I find most impressive about this professor was the authentic manner of integrating Christian faith and the academic discipline. This professor always explored topics and issues from various perspectives."

"I appreciated the approach to learning one-to-one. The professor was able to provide the supportive environment that removed fear and nurtured learning. I appreciated the input, the resources this professor directed me to, and the encouragement to learn and grow."
King's is proud to recognize its faculty who put authentic care and attention into the lives of their students. Congratulations, Gerda!