Back to Blog
Q&A with Brittany Smith, Residence Life Coordinator building a community
Dec 14, 2018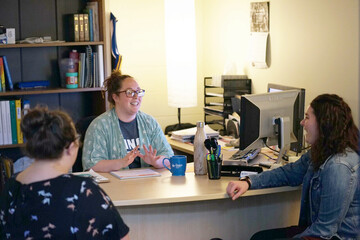 How would you describe your job?
It's about creating and building community for students living in residence. I think about it as facilitating student leadership, training, and ongoing mentorship and discipleship while supporting students through struggles and successes.
Tell us about your past experience.
I was recently a residence director at a small Christian school in Pennsylvania. I was on a team of seven other residence directors, but we also had a lot more students living on campus than at King's. Prior to that I was an admission counsellor at Tyndale Seminary and a youth pastor.
What is your hope for residence in the coming years?
In this first year, I hope to learn some of the traditions and qualities that makes King's residence distinct to King's. I want to use my past experience to further develop programming so students get excited to be involved. I've done campus-wide competitions at previous jobs that included commuters, so I'm dreaming about what that could look like at King's.
Where did you grow up?
I was born in Rochester, New York. I spent 18 years there before attending university outside of Boston. I took a gap year after university, and did The World Race—a missions opportunity that takes you to 11 countries in 11 months.
Where does your passion for your work come from?
My dad worked in Student Life. I saw how he impacted students' lives and how they impacted his.
University is a pivotal time in a student's lives where they are figuring stuff out. It's encouraging and inspiring to be around people who are passionate and convinced they can change the world. What does it look like to breathe life into those hopes and aspirations?
What aspect of your role do you enjoy the most?
I love working with student leaders, to hear their hopes and dreams for their floor for the year. I want to be there to encourage them as the year gets challenging. Leadership can do wonders for building a student's confidence.
Any book recommendations?
Forgive Us by Mae Elise Cannon is primarily about how the church has perpetrated or aided the harm of different cultural and societal groups. It's about acknowledging the harms and asking for forgiveness.
Prophetic Lament by Soong-Chan Rah is a call for justice in troubled times. It's about lament and what it looks like to spend time in grief. Half of the Psalms are about lament but most of our worship songs are about praise. What are we able to do as a church and a nation if we don't spend time in grief and lament?
Do you have a favourite motto?
"Doin it!" A friend and I trained and just showed up to a half marathon a year ago. The saying's a reminder to be present in what's happening. Forget you didn't train but you're doing it right now, it's happening, and enjoy what's going on. Be present in how this feels right now, even in the struggle.