Back to Blog
Q&A with the humans of the King's U pup
Nov 15, 2017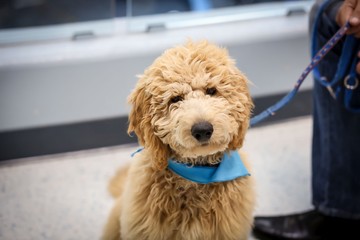 Q: Hi, Alison! Introduce us to your role.
I'm the Residence Life Coordinator. I cover everything from administrative residence application to crisis management in the rez and disciplinary stuff. This is my and Shay's (Alison's husband) fourth year living in the tower, which is where the first- year students live as well.
Q: Whose idea was it to get a dog that would live on campus?
It was Shay's. I put in the request to Dr. Mike Ferber. Mike and I were talking about self care, and we thought the dog would help now and into the future. So we started researching hypo-allergenic dog breeds.
Q: What breed is Indy? How old is he?
A golden doodle! He's three-quarters poodle. He was born in April 2017.
Q: Is Indy the first campus dog at King's?
He's the first approved pet. He lives with me and Shay in our apartment in the tower.
Q: What is Indy's purpose on campus?
He is our pet, but we did a lot of research on the impact of having animals in the community. We talked to other residence directors on why other institutions have animals. They've seen that students are more willing to engage with those rez directors, that the animal is a bridge for the student to start a conversation—they can connect with the dog and then have a way to talk about what they need.

Animals have a therapeutic opportunity. There is so much research into the therapeutic benefits of animals. It's encouraging how something so small can make such a meaningful impact. I've also noticed having Indy has brought me out into the community more. Students will engage with us when we're out for a walk. In my off time, I'm in the campus spaces more than living in my apartment.
Q: How long has Indy been at King's?
We brought him to King's in June this year.
Q: How is he doing so far with students back on campus?
We think he loves it. It's been a little tiring, but for the most part he's been more outgoing. We've been working to socialize him, and he's getting lots of attention. He even took part in Colour Me King's! He's truly the King's dog now.
Q: What is Indie's favourite treat?
We give him carrots and zucchini—which he loves and are really good for dogs—from my plot in the King's community garden beside the apartments.
Q: What is the most common question students ask you?
A lot of students ask if they can take him for a walk.
Q: Why did you name him Indy?
We thought a lot about this. I read that a dog should have a two syllable name with a vowel at the end. We were going to name him Tango, Whiskey…but then it's a dry campus (she laughs). There's a cute little inside joke to Indy's name. The joke in Indiana Jones is that Indy (the protagonist) is "Indiana junior," but he's not named after his father. He's named after their dog. We've had a few people say we need to get him an Indiana Jones hat and dress him up for Halloween.
Q: Can you book time with Indy or do students just catch him around campus?
There's nothing official booked yet. He's going to be at pretty much any event that's outside. Students and others are very free to approach him when he's around. I've even had students pull their vehicle over when we're walking him in the community to come pet him.

Indy has his own hashtag: #Kingsupup. Catch more pictures of him on the The King's Residence Instagram account!