Back to Blog
Record number of King's student-athletes recognized as National Scholars
Sep 13, 2017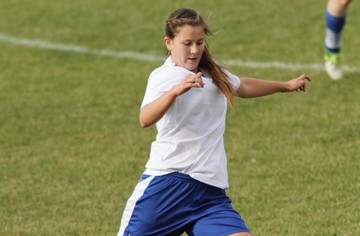 The Canadian Collegiate Athletic Association (CCAA) announced its National Scholar Award recipients for the 2016-17 season, and 27 students from The King's University are on the list. This is the highest number of honourees from King's in the university's history.
"We are very excited to see this list of students grow every year!" said Athletics Director Grace Scott. "It is important to us that our teams not only strive to perform well athletically, but that our students expand their career opportunities once they graduate by excelling academically."
The National Scholar Award recognizes the outstanding academic accomplishments of CCAA student-athletes. To be recognized, a student-athlete must achieve honours standing at their institution in the current academic year. Last year, 870 student-athletes from 94 CCAA member-institutions were awarded the prestigious honour in their pursuit of academic and athletic excellence.
The King's University Eagles recipients include the following:
Madeline Klootwyk, Women's Basketball
Amy Whitesell, Women's Basketball
Joshua Borzel, Badminton
Annika Jacobsson, Badminton
Adam Vanderschee, Badminton
Ryleigh Vanderschee, Badminton
David Freund, Men's Soccer
Wesley McNutt, Men's Soccer
Aaron Steenhof, Men's Soccer
Tyler Struyk, Men's Soccer
Gregory Vander Vinne, Men's Soccer
Kimberly De Jager, Women's Soccer
Lauren Hilton, Women's Soccer
Dani Kieftenbeld, Women's Soccer
Rachel Messelink, Women's Soccer
Taylor Noble, Women's Soccer
Janaya Slack, Women's Soccer
Emilie Toews, Women's Soccer
Alicia Van Boven, Women's Soccer
Alexandra Velsink, Women's Soccer
Kristofer Ames, Men's Volleyball
Matthew Clayton, Men's Volleyball
Eli Nanninga, Men's Volleyball
Aubry Poulin, Men's Volleyball
Caitlin Buist, Women's Volleyball
Jordan Fillion, Women's Volleyball
Bailey Koebel, Women's Volleyball