Back to Blog
Retirement tribute: Wendy Vanderwel
Nov 15, 2017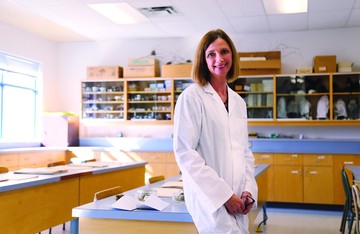 Wendy Vanderwel came to King's in 1986 as a sessional instructor, becoming a part-time lab instructor in 1994 and a full-time instructor in 1998. She retired this fall after working with her successor, King's alumna Catherine Welke.
What drew you to King's?
I didn't know much about King's in 1986. We were new to Edmonton, had two little kids, and I had just been accepted into the soprano section of Pro Coro, a professional chamber choir, and I wanted to do something with my biology training. I had experience as a wildlife biologist and lab instructor at two universities, so when I heard King's wanted someone to teach botany labs two afternoons a week, it seemed ideal. I had no background in Christian education, so I didn't really understand Christian higher education until I started working at King's. In hindsight I would say it's God that drew me to King's.
What are some highlights of your work?
I've had many occasions in the lab with students where they have that "aha!" moment and you see them get excited about science and the natural world. It's so gratifying as a teacher to experience that with students—to see them mature and grow into responsible Christian citizens. You know that they're going to go out and strive to make the world a better place. Interdisciplinary Studies conferences really stand out. They make King's so unique—I can't think of another university that does this. Classes are cancelled for two days and students get to hear prominent speakers on really current topics.

As a singer, I had opportunities here that I would never have had anywhere else, like performing at anniversary celebrations with the stellar musicians in the King's music department.

Other highlights are the three-day annual ecology field trips. We would go to Cypress Hills or the Adams River, more recently Crowsnest Pass. I've gone on 22 of those since 1994, only missed one year. Being in charge of the gear and the food for 30-40 people who are sleeping in tents is a daunting task but well worth it! For some students it is almost a life-changing experience. Now we tend to use Bible camps with cabins—we thought we'd died and gone to heaven the first time we experienced that!

The way we teach biology here is within a Biblical context. It's a beautiful thing to hear the professors expound on that. In particular, I remember at the end of a Crowsnest trip, Prof. Vern Peters did a paraphrase of Psalm 104, drawing in the experiences that the students had on the trip, and it was very moving and powerful.

I feel so blessed to work with the people I have worked with. It's a real collegial atmosphere. It's not about egos and prestige; we're all working together with the same goal.
What will you do next?
The list keeps getting longer! If I do all these things I'm thinking of doing, I'm going to want to come back to work just to rest! I do want to join some environmental action groups. I'm looking forward to having more time to just get outside and to do more birding and botanizing.

Musically, I want to learn piano. After all these years I've never had piano lessons, just voice lessons. My husband and I want to study Spanish and travel places where I can practice. I'll look for volunteer opportunities and projects around the house. It will nice to be available to my three grown children.
What are your hopes for King's?
My biggest prayer for King's is that it never loses its Christian identity and its mission, that it continues to follow in the footsteps of Jesus Christ the Servant-King. That is what keeps King's vibrant, and everything else kind of hangs off of that. If we lose that, we will devolve into just another private university. My experience here has been that it remains vibrant.

King's has been a real revelation to me, coming from a secular background. Here, in the science department, I've learned that not only is it possible to do good science in a Christian context, but that science actually thrives in a Christian context. It's been a beautiful thing to see.

I also really want King's to continue its culture of interdisciplinary focus. It's so unique among universities to have musicians, physicists, theologians all sitting around the same table having meaningful discussions about the future of this enterprise that we're part of. There's a lot of collegiality, the sense that we're all in this together and all using our different gifts to bring about Christ's kingdom.